Camping can be very fun, but it is not always a glamorous experience. You are in the middle of nature, as prepared as you can hope to be, but there are always some potential surprises in store. From wild animals to food mishaps to tent debacles, there is no shortage of camping failure stories...and these pictures are living proof! Next time you think of going camping, scroll through these photos to remind yourself of what the experience might end up being like. 
Lesson to Stay Away From the Cacti
Perhaps he didn't see that there was an enormous bush of cacti in the area or maybe he just slipped and fell at the worst possible time, but this man perhaps is having one of the worst camping trips of all time. Being pricked by one cactus can be painful enough, but this looks like literal hell. How did he even manage to get that many cacti stuck to him from one fall?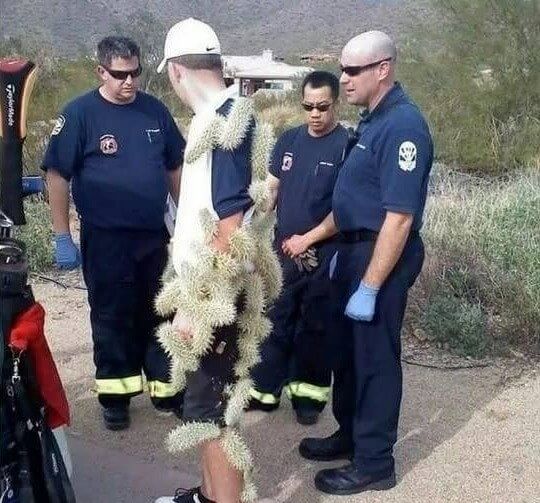 He was lucky enough to have some emergency services available to come to his aid, otherwise, this could have been an even worse and more painful situation. 
The Lazy Campers
Some people love to go camping and yet they hate to set up tents and do all the work. This family decided to create a solution for this. Instead of dissembling and reassembling the tents every time they moved campsites, they decided to make things a little bit easier. They simply pack everything on top of their car and transport it from place to place completely undisturbed and fully intact.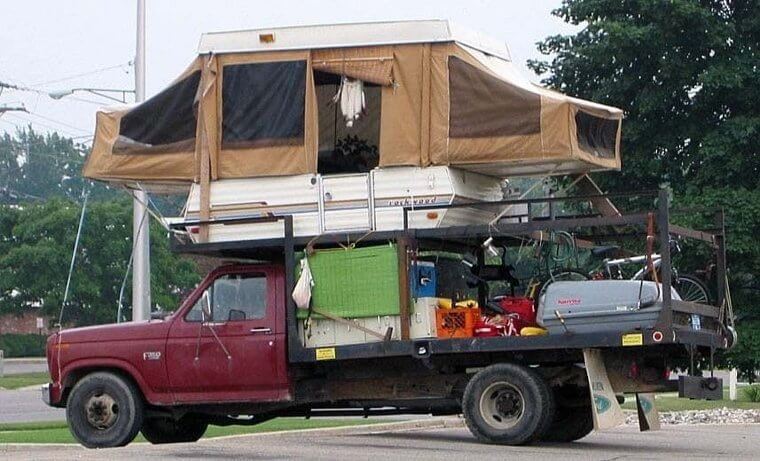 This idea is partially genius. After all, it saves a lot of time, especially if you are moving campsites often and you are with a larger group of people. 
A Cool and Comfortable Camping Trip
There is not doubt about it, camping can be uncomfortable. The weather does not always cooperate and it can get way too hot for comfort. Some people decide to come up with an interesting solution to solve this problem in the form of a portable air conditioning unit to attach to the tent. Although it is certainly creative and inventive, it may defeat the purpose of going camping in the first place.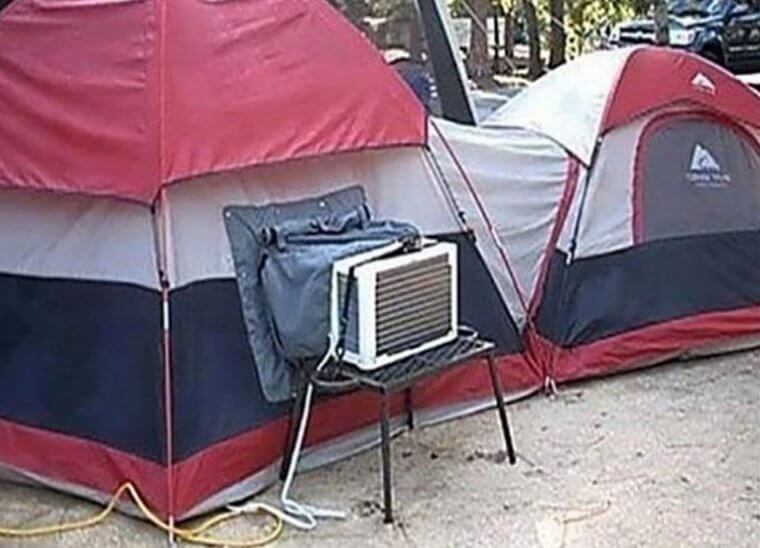 Even if it is a little unnecessary, the other campers in the area were probably jealous of this camper who woke up cool and comfortable despite the heat. 
It's Not a Secret Anymore
Everyone is looking for a nice, hidden oasis when they go on a camping trip...far away from other people. There is no limit to the excitement of finding the perfect, hidden spot. However, you usually don't want to want to share that secret with everyone, or else it will soon become not quite as secretive. This sign sort of defeats the purpose of it being a hidden campground when it displays the exact location for everyone.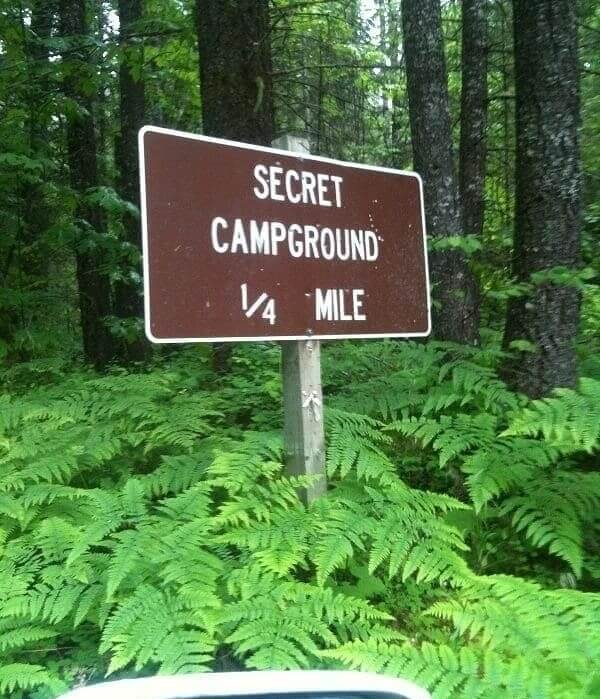 It does appear to be a pretty overgrown area and maybe the campground will still be difficult to find for most people, despite the sign. Hopefully, the secret campground will not be too full of people! 
Bring the Mat but Don't Use It
In case you ever want to make sure that your book is kept very comfortable while camping, this Econo camper mat is the perfect thing for you (and your book). Although you may be led to believe that this mat is perfect for you, if you are judging its usefulness by the advertisement on the cover of the packaging, it may be better suited for books and you should just remain on the ground.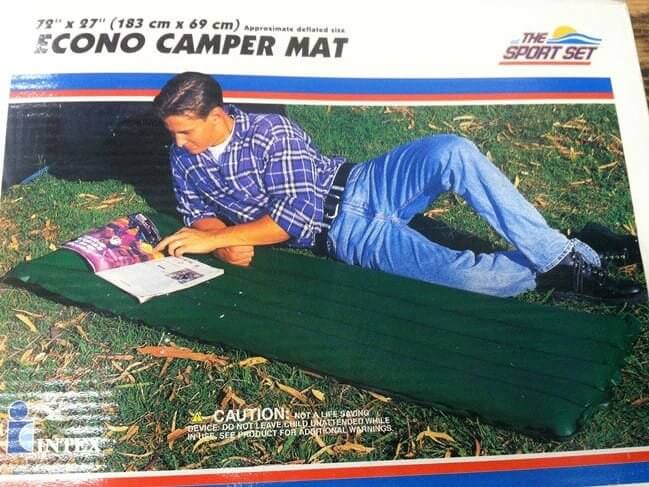 Maybe they are actually just trying to promote staying on the grass and enjoying nature while you are camping and just to bring along this mat in case you get uncomfortable. 
He Must Be a Very Deep Sleeper
It would be interesting to know how this man managed to get himself wrapped up (pun intended) in such a sticky situation (pun intended). Either he lost a bet while he was out camping with his friends, or he is a very, very deep sleeper and this was done to him while he was asleep and knocked out after a long day's hike. Either way, that can't be comfortable for long.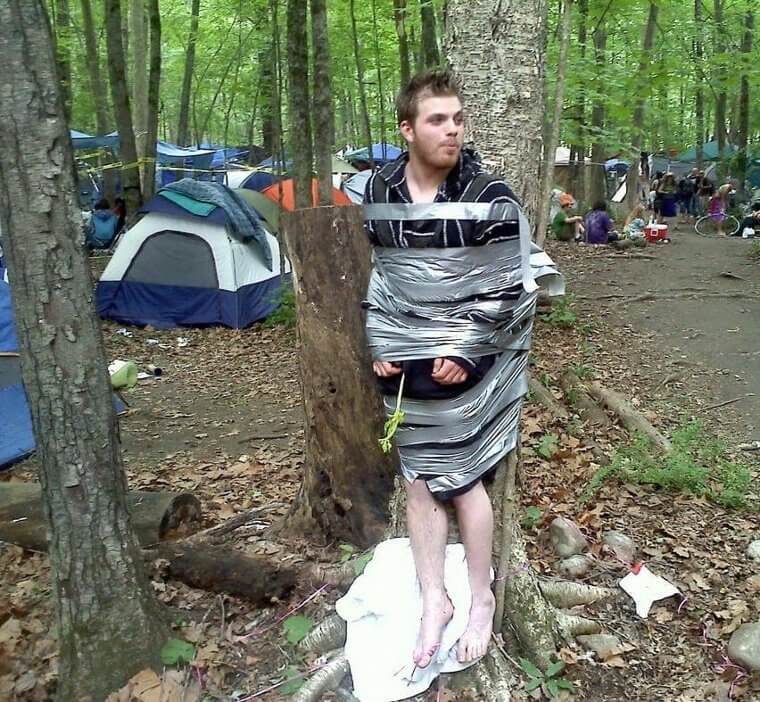 He seems to be taking it quite well, however, and it looks like he is actually smiling a little bit in the picture. Maybe they were all surprised that the duct tape even worked in the first place. 
He Made His Priorities Clear
Imagine going on a camping trip with your friend or your partner, fully expecting to sleep in the tent with them, as you only brought one along with you. However, as the night progresses you see that they have different priorities. Instead of letting you sleep in the tent, they decide to cuddle up to...their bicycle. Although people can certainly love some objects, this seems to be a little bit on the extreme side.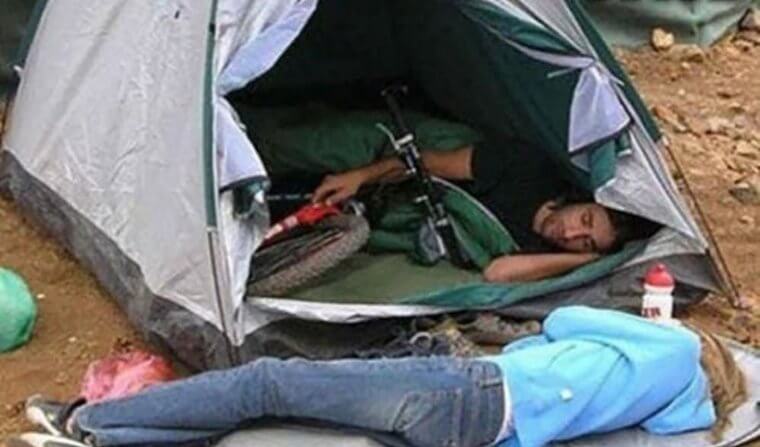 This poor woman was forced to sleep outside, with no protection at all, to protect a bicycle. Why is this such a valuable bike anyway that she wouldn't be allowed to have some shelter in place of it?
A Jacket, a Sleeping Bag, and a Tent
Why carry around multiple items on a hiking and camping trip, when you can combine them all into one? Did you know that you can buy a jacket that also doubles as a sleeping bag and triples as a tent? That is one convenient piece of material to say the least. Most people who are hiking and backpacking try to keep things as light and minimal as possible, so this is really a great option.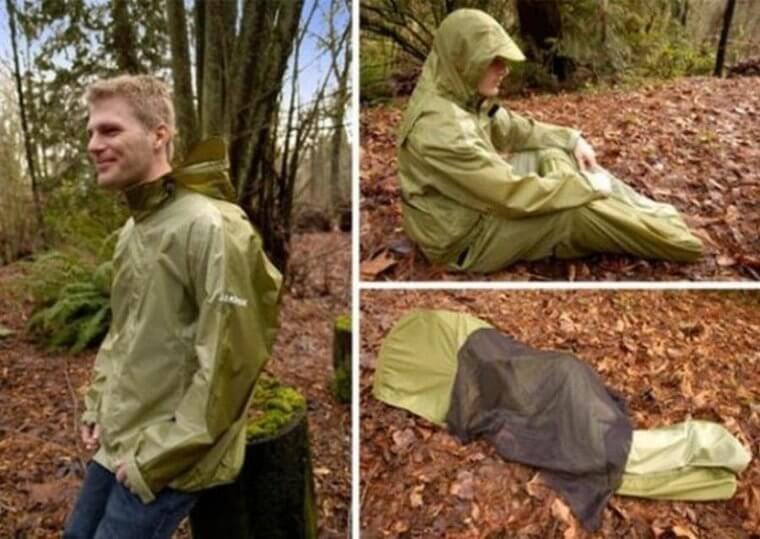 The only downside is that it doesn't really look too warm. But perhaps it is made out of a material that is extra warming and it is surprising. 
Bringing a TV Camping
Camping has a little bit of a different meaning for everyone. However, there is one thing that just about everyone can agree on is important while going camping is to disconnect a bit and reconnect with nature. This group seemed to have missed the point a bit as they decided to bring along a full TV on their camping trip. Although this could be understandable on a long trip, it is fairly sad if it's a short trip.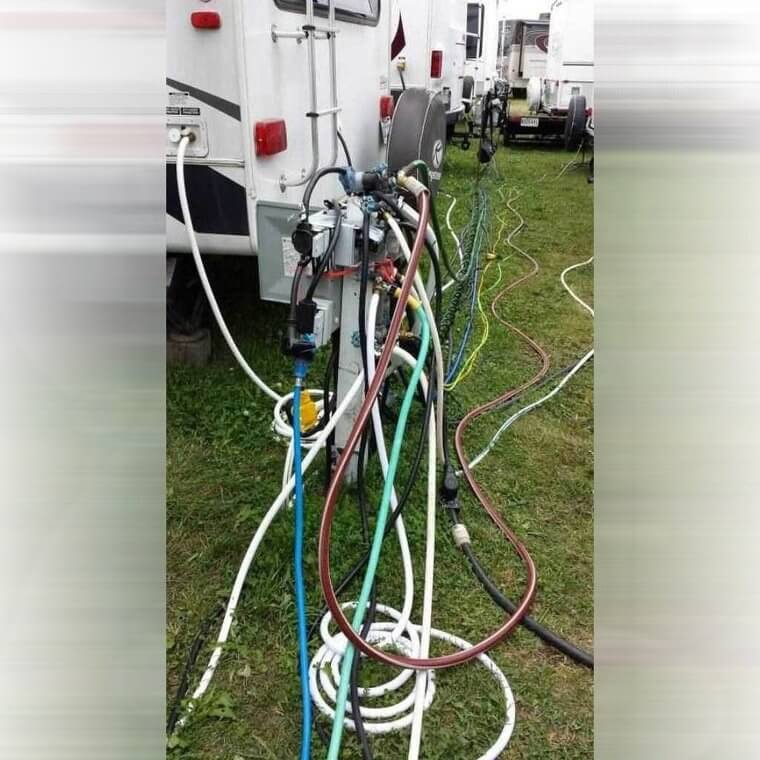 This is even sadder when you see how many cords they needed to bring along in order to make this work. They probably spent more time setting this up than in nature. 
No Bath Left Behind
There are many things to consider when writing a packing list for a camping trip. You can't forget your socks and boots and a few extra pairs of underwear. However, there aren't many people who would think to include on this list an enormous bathtub. After all, who even has a spare bath sitting around that they can lug along with them to various places? Probably not so many people.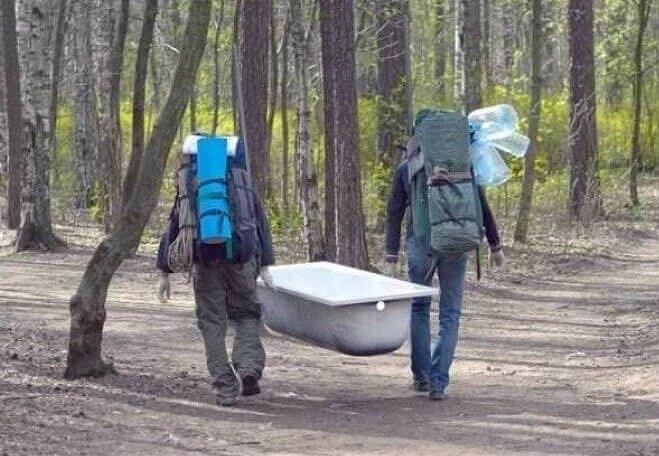 Maybe they are scared that their campsite won't have showers, but then again where would they get enough water to fill this? Or maybe they are planning to fill it with rainwater?
Good Morning to You
There's nothing quite like waking up after a nice camping trip and a beautiful night in nature. However, this man may have a different story to tell. Most people love to bring their dogs along with them on their trip, at least whenever possible. This man may be having some regrets after this morning. His dog just couldn't resist the view outside the tent window and used his owner's face as a stepping stool.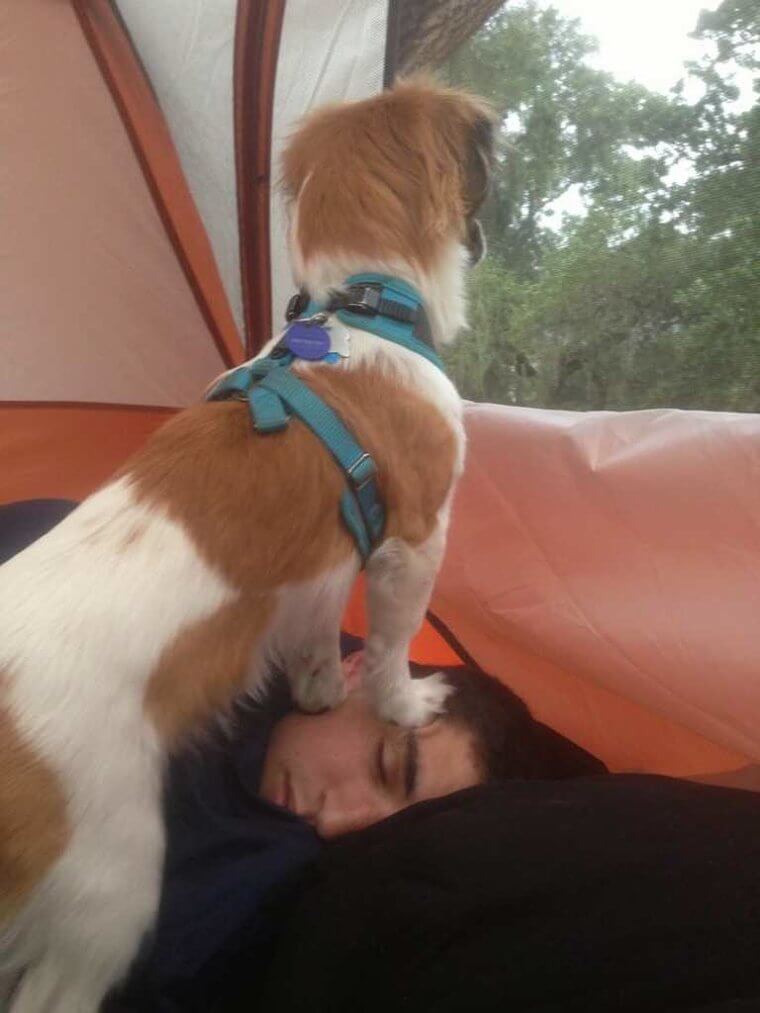 The man seems to be sleeping pretty soundly despite the early morning wake-up call from his dog. Maybe he is a very deep sleeper and he is used to this already.  
The Bare Minimum
Well, this certainly qualifies as bringing along the bare minimum for a camping trip. Some people really like to pack light, and it seems like this man took that to an extreme. Some tents may be cozy and small, but this is a whole new level. This man can literally only fit his head in this tent. Who was this tent even made for? A dog or a cat...or a very, very small baby?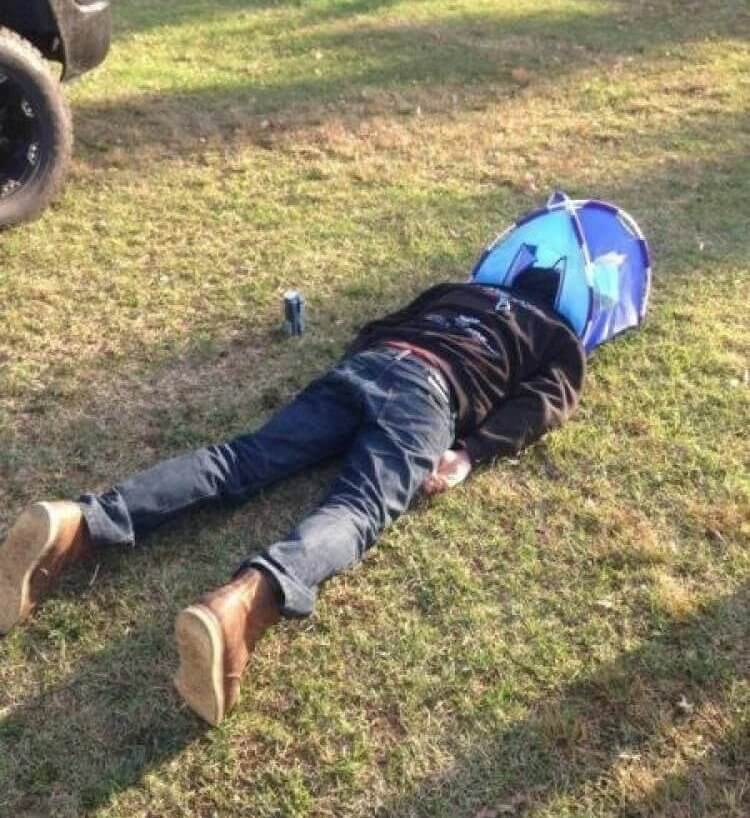 Maybe this is a tent for dolls that kids can bring along with them on trips. Perhaps this man is finally understanding why it was so inexpensive!
The Best Type of Phone to Have While Camping
Most people want to go on a camping trip so that they can disconnect a bit from the hectic, modern world and embrace the beautiful nature all around them. Someone decided to disconnect the phone that was attached to this sign and install a tin can in its place. Although this is certainly in the spirit of disconnecting from everything, it may be a bit dangerous for people who needed a phone for an emergency.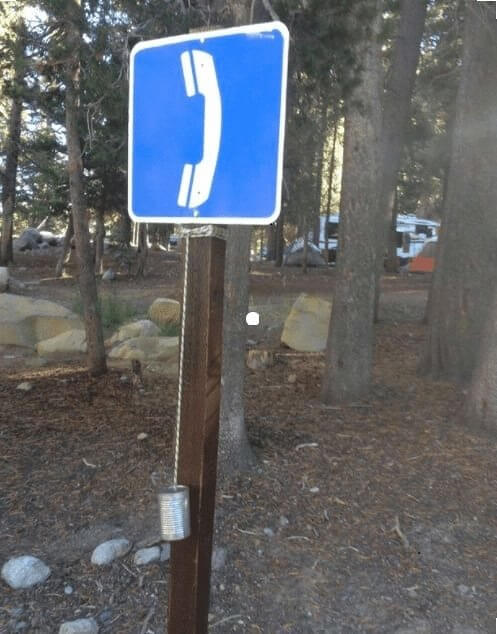 Imagine how sad it would be in an emergency situation to see that there happened to be a phone in the middle of the forest only to find out that it is not a real phone at all.
The Flying Tent
Although this could be a great idea for an Airbnb in the future (call it The Flying Tent or The Sky Tent), it is unlikely that these people intended for this to be their tent situation. It certainly looks like a lot of fun, but it is not the safest situation. There is not a lot of security involved and most people would probably have a hard time falling asleep under such circumstances.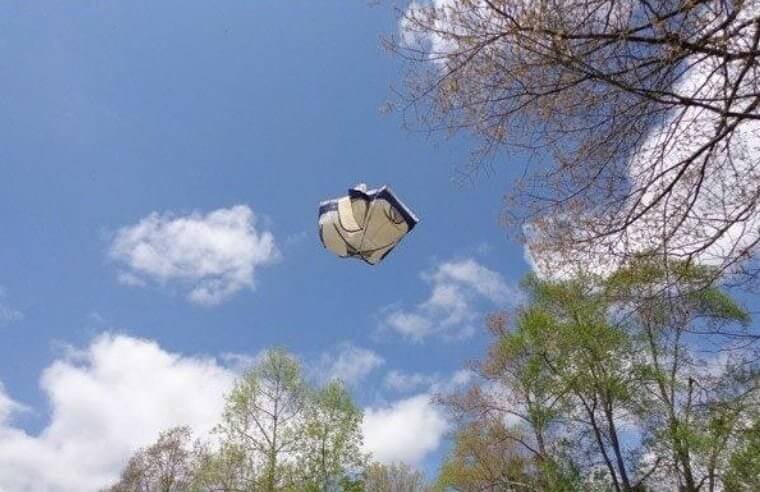 It really looks quite nice and parts of the tent are even in the same colors as the sky, though. That must have been some crazy wind that lifted it up to the sky like this. 
Is It Camping or Dangling
What do you call camping when you are not actually on the earth or the ground but rather dangling in the air? Although this certainly looks like a thrilling and exhilarating experience, it also looks like a terrifying one. There are many adventure seekers in the world who would die for an experience like this (hopefully they don't actually die during an experience like this), but it's definitely not for everyone.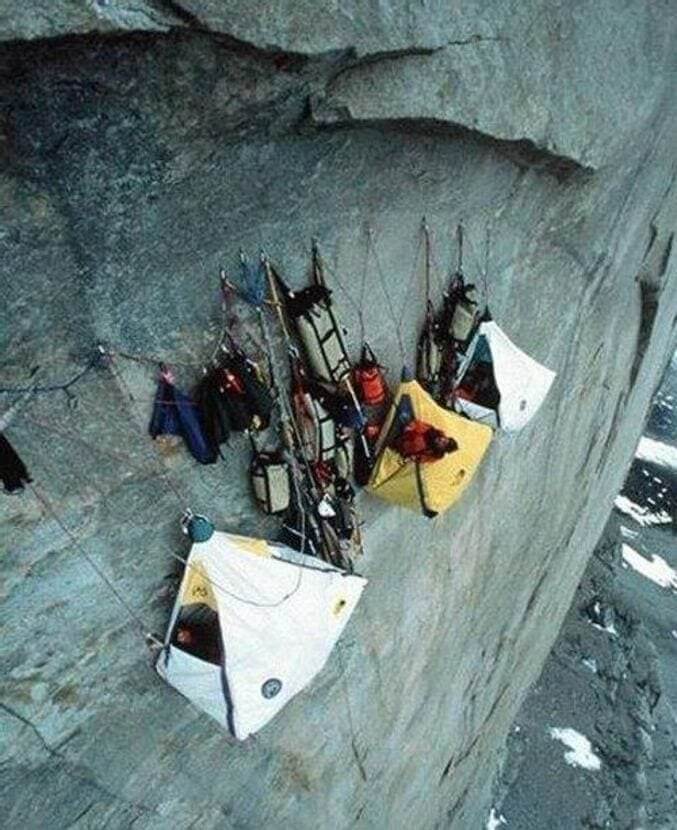 How do they even get the tents to hang there like that, as if they are bats? And how do the people sleeping in them feel secure at all? How can they sleep?
Don't Follow the Signs
Signs can be very important when it comes to camping and hiking and spending time in the wilderness and nature. You never know what kind of terrain or animals may be waiting for you around any corner. Although it is important to follow the signs, it seems like no one in this crowd seemed to be interested in doing anything of the sort. They all wanted to camp here and they set up camp despite the sign.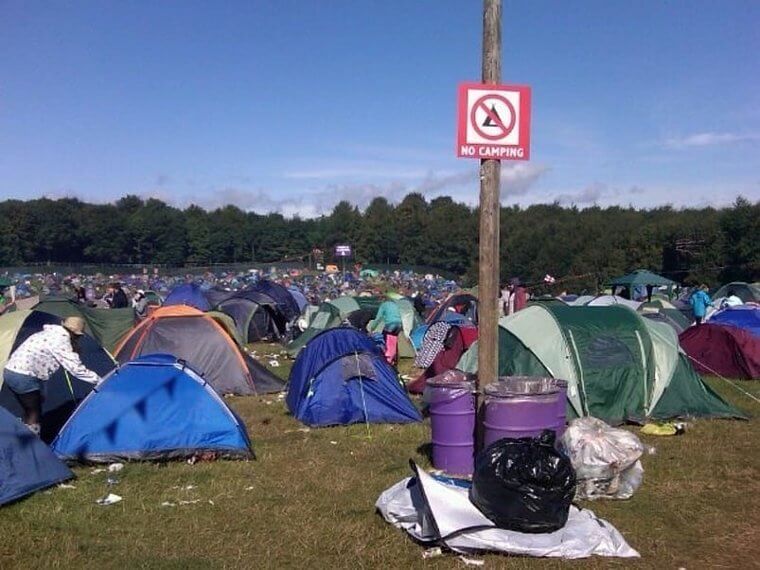 Maybe one person started by setting up their tent and then everyone else thought it was acceptable and allowed. Before they knew it, the "campsite" was full of people. 
The Perfect Clothes Dryer
What is more important than having dry, freshly cleaned clothes? Especially if you are camping or hiking, there is practically nothing more important than that (except maybe food and water). However, there aren't many people who would be willing to hang out their freshly washed clothes on their fancy sportscar as if it were a clothesline. These people seem to be an exception and they have done just that.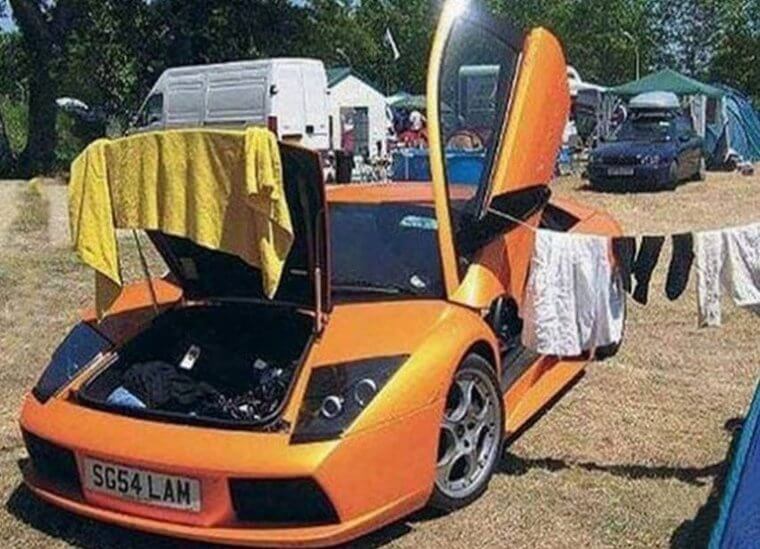 Well, they certainly got creative with this one. Although it is not necessarily the first method that comes to mind when it came to drying clothes, it is a functional one!
When You Want a Marshmallow but Are Scared of Fire
What do you do if you are out camping and everyone is sitting around roasting marshmallows over the fire? Most people would join right in, but there are some people who would be too scared of the flame to get close enough. Worry not! This man has a solution...an extremely long stick. He just places the marshmallow at the top like normal and then stands far away from the fire as it roasts.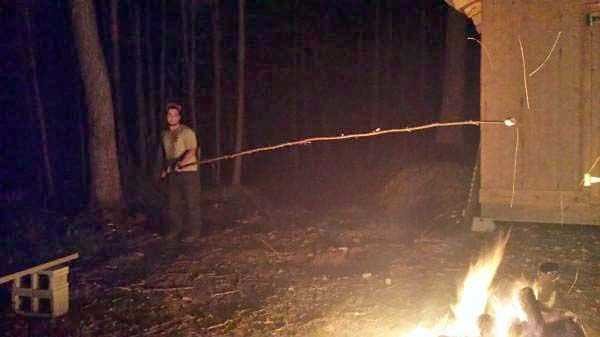 Maybe he was scared of the fire or maybe he was just too hot to get any closer. Either way, it is partially a genius solution and partially a risky one. 
The Shopping Cart Grill
Not everyone comes prepared for a camping trip. Sometimes people forget things, and sometimes they are important things, like a grill to cook on. In that case, don't worry if there is a shopping cart around. As can be seen here, you can simply turn the shopping cart into a makeshift grill. Some firewood and a way to trap the heat from escaping at the top and you are good to go!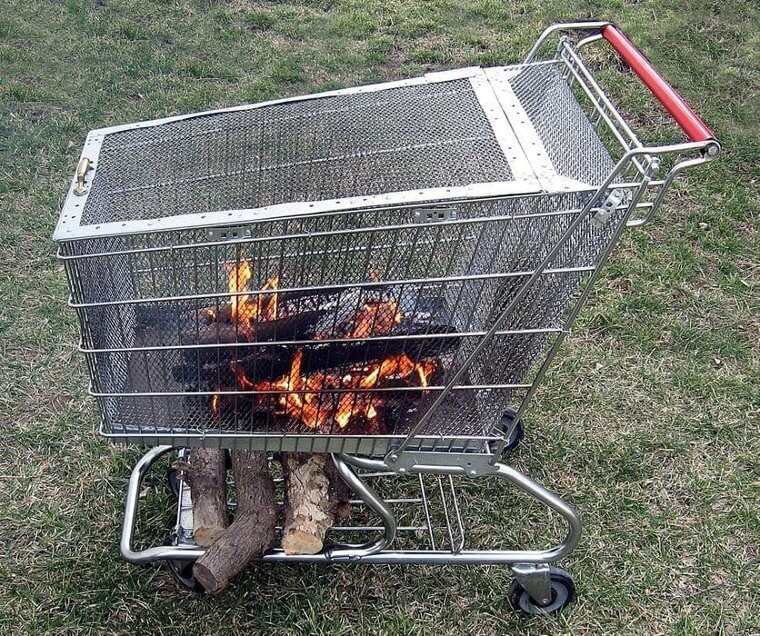 This is really quite clever when you think of it, even if it is probably not the safest cooking method. Also, who happens to have a shopping cart lying around while camping? 
Cooking for a Crowd
Now this one is actually very clever. When you have a crowd of people or a family to cook for, why would you wait around as you cook individual hot dogs one by one? It takes up so much time and you'll get too hot sitting by the fire. Instead, grab a rake, attach one hot dog to each of the prongs, stick it into the fire, and voila!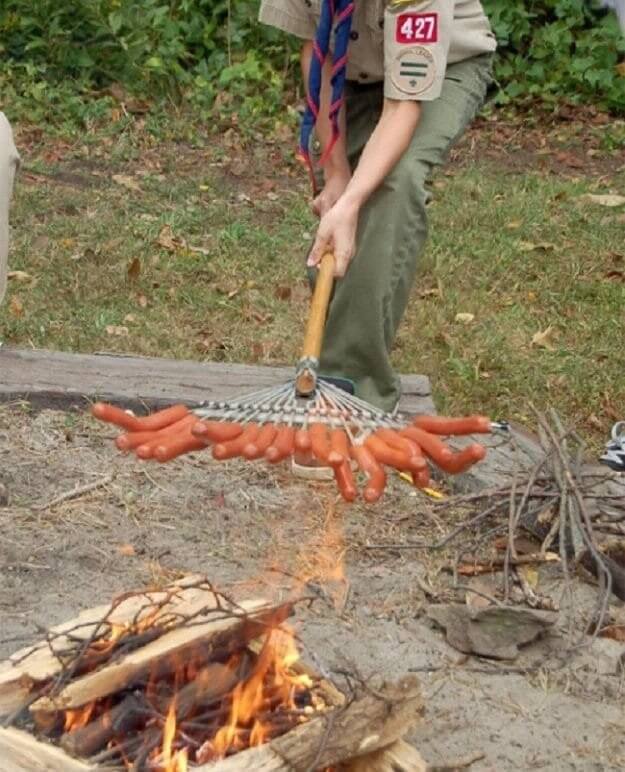 All the people sitting around and waiting for food were probably pretty happy to see this smart person come up with this hack. There was no need to wait around endlessly anymore! 
Don't Put Heat on Plastic
Bringing along a mini portable grill while camping may seem like a great idea at first, but pair that with plastic and you'll have a mess on your hands and some melted plastics in your possession. But who knows, maybe they think it was all worth it to have some meat that was freshly grilled on their camping trip. After all, they can always buy a new plastic table next time.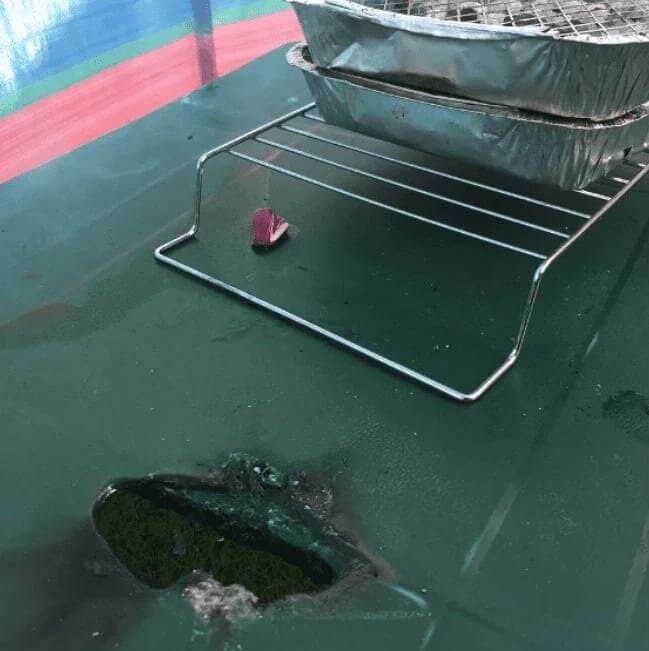 Hopefully, the meat was worth it and it turned out to taste perfect. Next time they should really consider putting the grill (and all hot items) farther away from plastics. 
The Turtle Man
Have you ever wondered what it would be like to carry your entire life on your back? Well, this man can tell you all about his experience. He is literally the human form of a turtle, carrying what appears to be his home, his belongings, and his entire life on his back. Although it must be somewhat convenient (he always has what he needs with him), it must get pretty heavy.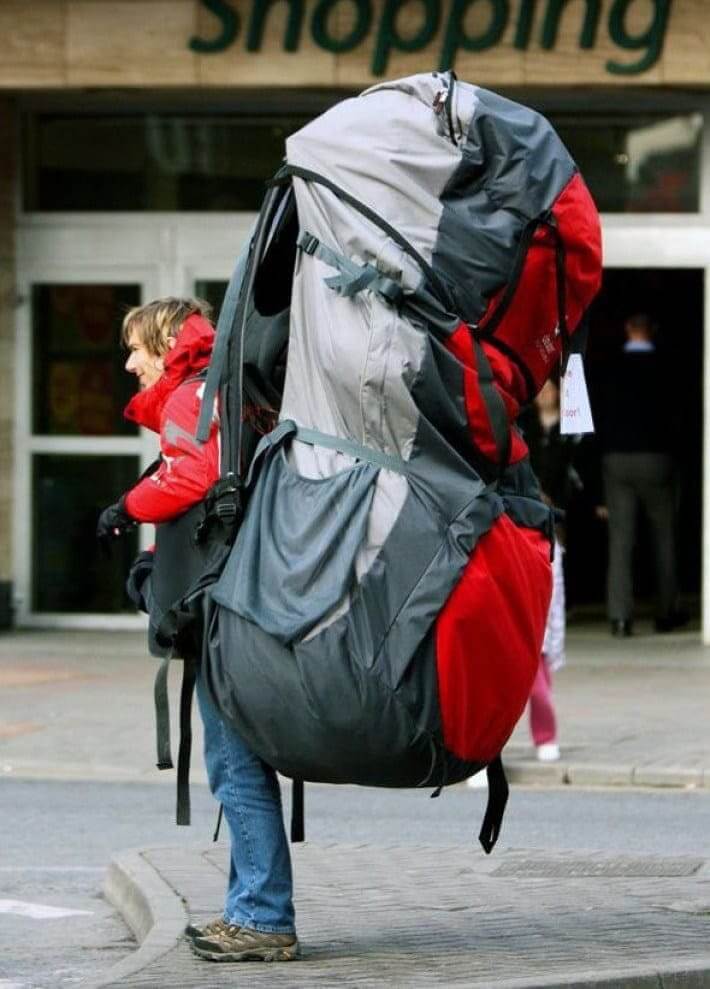 How is he even managing to actually hold all of that on his back? It seems like psychics would get the better of him. Maybe his bag is very light or he is just very strong!
The Camping Version of the Dog House
What happens when you get in an argument with your spouse during a camping trip? Neither of you has anywhere else to go except the very small tent that you brought along for the trip. Instead of the sofa or the doghouse, someone is going to end up sleeping like this man. Maybe he didn't do anything wrong and no one was even in an argument. Perhaps, this is just his preferred way to sleep while on a camping trip.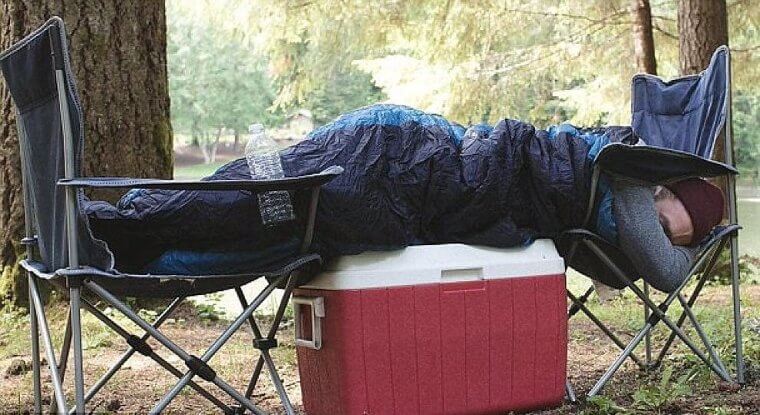 What do you think he did to deserve such a punishment? It really doesn't look like the most ideal sleeping situation in the least bit. 
A Surprising Guest
Perhaps one of the biggest fears a person can have while camping is the different wild animals that they may encounter during the trip. Although most animals tend to leave humans alone, and they are often harmless, there are some exceptions. This bear, although he may be completely friendly, has invaded a campsite looking for some snacks. Did he find anything tasty? You will never know for sure...
Hopefully, he didn't find any people in that tent when he came to visit and only some food. Can you imagine how terrifying it would be to be in a small tent and to have a bear walk right in?
Setting up Camp
Although most people tend to go camping in order to disconnect from their work and busy life in the city, sometimes you just have to do what you have to do. It looks like this man didn't have any vacation days left and yet he still wanted to go on a camping trip. What is the solution? Just bring your office right along with you, set up camp, and work from there.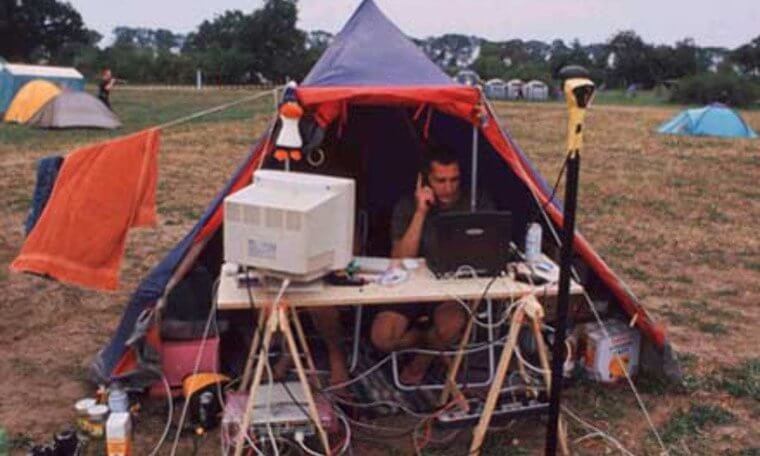 It seems to be working pretty well for him, even if it also appears to be quite a difficult thing to set up. Hopefully, he has lots of battery on his computer!
The Wildest of Tents
Ok, there is no arguing here that this is by far the funniest name for a tent that you have ever come across. Although you probably have never given much thought to naming brands for tents, that has all changed now that you have seen this tent. And that is without even mentioning the incredible graphic design they hired to create their logo. It is both comical and accurate at the same time.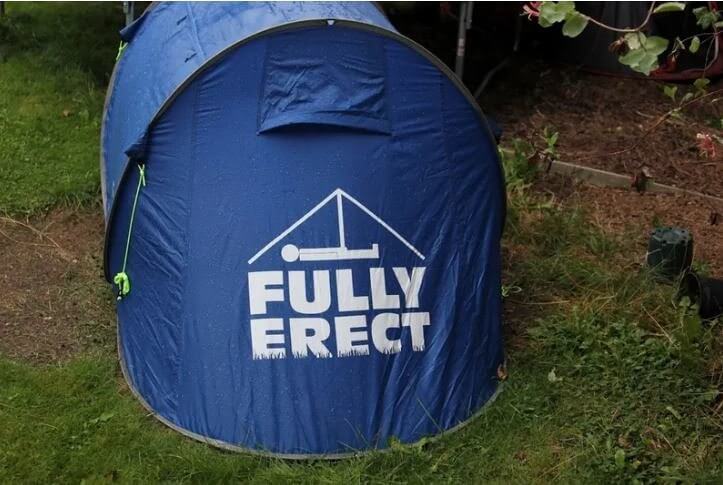 The funniest thing here would be to see who is inside the tent. Everyone has that one friend who would go to the store for a new tent and come back with this one. 
They Reserved the Best Spot in the House
Who even knew that you could reserve a place when you are camping? Do you just call someone and pay them to place this sign in the ground or do you come early and claim your spot? Well, it's clearly not the best of ideas as these people picked just about the worst possible spot to reserve. No one in their right mind would want to set up camp in a place that is more of a swamp than ground. 
At least they don't have to worry about anyone taking their place! Without a doubt, their reservation is safe.
The Mailbox Stovetop
Going camping calls for creativity. You oftentimes are without the luxuries of home life. Electricity is far away and ovens become a mere memory. In those circumstances (if you did not come prepared) you have to get creative if you want to eat. These people found a mailbox (no one knows where) and somehow turned it into an oven that they used to cook and heat up water during their trip.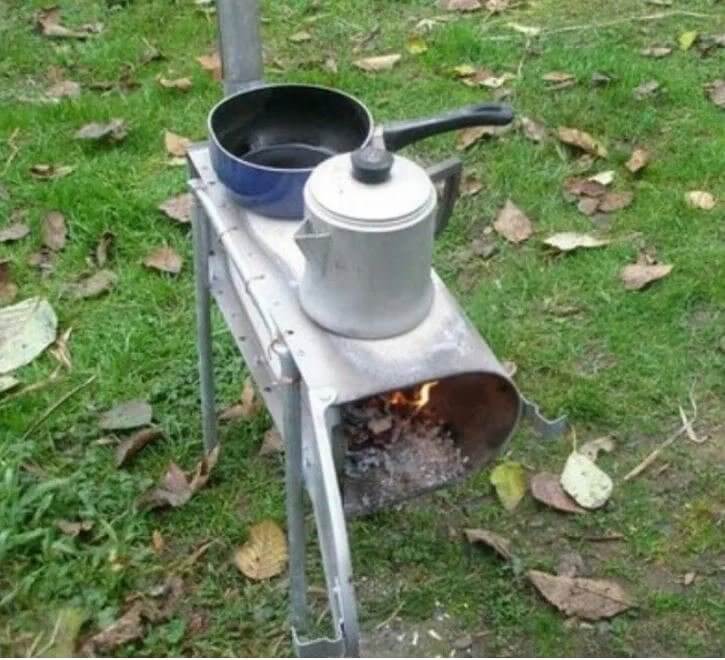 All it took was a metal mailbox, some pieces of wood, and a flame....and then these people had themselves a nice, hot oven. No one can say whether or not it actually worked though. 
Hello There Horsey
There are very few people in the world who do not get very excited to see a horse when they are traveling about. After all, they are beautiful creatures and fairly rare. However, most people would not be too thrilled to see that there was a horse that entered into their tent. Besides being an enormous animal (that could never fit in a tent), they usually aren't squeaky clean either. 
What was the horse looking for in the tent? Did someone leave some sugar cubes behind and they were interested in having a little mid-day snack? Hopefully, the horsey found something!
Shopping Cart Oven Part 2
Here you are presented with the alternative make of what is known as the Shopping Cart Oven. You were offered the creative Mailbox Oven and a slightly different model of the Shopping Cart Oven before. However, here is a new and improved version. Although it is essentially the same concept (fire, shopping cart, and cooking) you may find this style more to your liking. Which one cooks better? Only you can know. 
Maybe this isn't as creative of an idea as you might have originally thought. The only real question in all of this is...where are these people finding so many shopping carts just lying around. 
The Muddiest Path
Why did this car have to drive right exactly through this specific area on such a muddy day? This person really made the lives of these campers pretty unpleasant by giving them the pleasure of waking up to mud-covered tents. Hopefully, the people inside were somehow saved from the muddy fate that awaited them as soon as they woke up and exited their tents. It's certainly not the best way to wake up in the morning.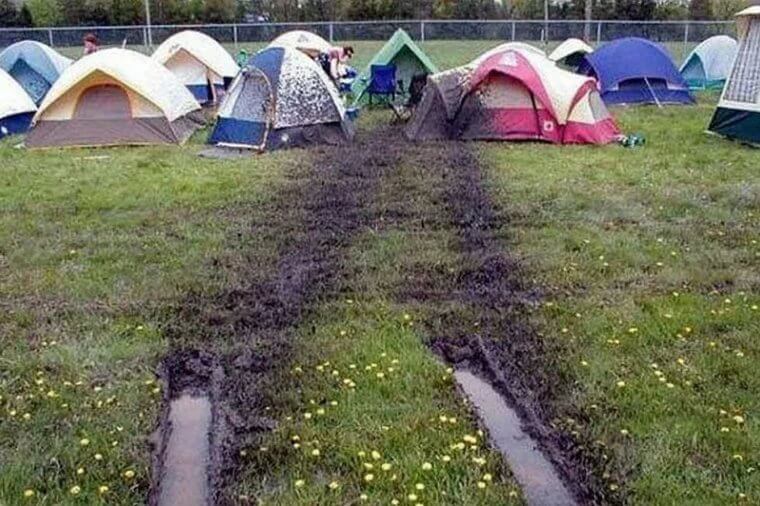 How can someone be so inconsiderate and just drive away leaving this trail of mud behind them? Even if it wasn't intentional, it was really inconsiderate and not thoughtful. 
Don't Take Your Cat Camping
It's pretty common to bring dogs along on camping trips. They make great companions and tend to be in the best of spirits for the majority of the camping trip. Have you ever heard of someone bringing along their cat? Probably not, because it isn't the most common thing to do...and maybe this picture is proof to why. This cat does not seem to be enjoying itself and is desperately trying to escape the tent.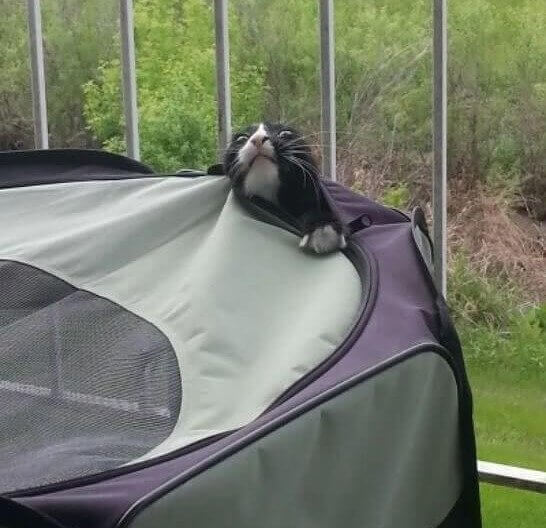 You can see the panic in the cat's eyes as it tries to pull itself out of the confines of this tent. He can't seem to understand why he was brought along on this trip in the first place. 
The Perfect Hammock Tree
What can you do when you find the perfect hammock tree except get extremely excited and set up your camp right there? It's hard to resist setting up a whole sling of hammocks on one of the most perfect hammock trees (they can be pretty hard to find, after all). This camping ground took their excitement to the next level and set up all the hammocks on the same tree. 
Although this looks fun and artistic, how is the person on top (or any people above the bottom guy) supposed to get out? You would dread the midnight bathroom break in these sleeping circumstances. 
Loose Your Phone in a Pool of Water
It wasn't even a rainy day. There was hardly any water in sight and you weren't camped next to a lake or a river. So how did it happen that your entire phone ended up in the only wet spot on the campsite? The only explanation can be karma. Besides the potential danger of no longer having a GPS or an emergency contact, it is downright inconvenient to be without a phone on a camping trip.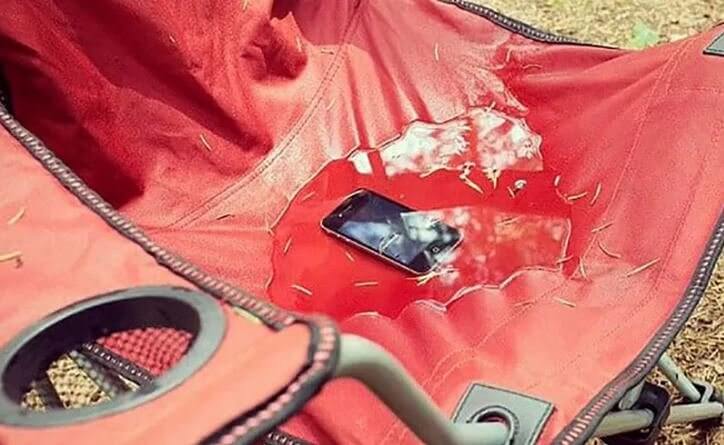 At least this person will be able to disconnect from everything for a while during their trip to nature. Even if it wasn't fully desired, they were forced to do it and maybe it will be for the best!
The Camper's Dream
What is the definition of living your best life? Perhaps this picture is right here. This person set up their camp on a cliff at the edge of the ocean. They have a nice table and a chair to relax and enjoy the view and the solitary silence. Although it might be concerning if a large wave came and decided to sweep away the entire setup, it is still lovely to imagine the positive situations. 
Would you be comfortable enough to go out to this spot all on your own and enjoy the day on this rock edge?