Summertime and the living is easy, right? Well, unless you're one of the people in the article you're about to read. Whether it's faulty camping equipment, the beating sun, or strange things found in the sand at the beach, there's nothing quite like a summertime fail. So, scroll down for a good laugh, and make sure you don't repeat any of these poor innocent people's mistakes! 
This Guy Is In A Spiky Situation
Hiking is one of the best ways to pass your time during the summer. You just have to make sure to bring enough bug spray, wear the right shoes, and oh yeah– don't fall into a giant patch of cacti! This poor guy actually had to call EMS to help him out after he took a little unintentional roll in the thorns. It's like they always say: there's nothing like the great outdoors!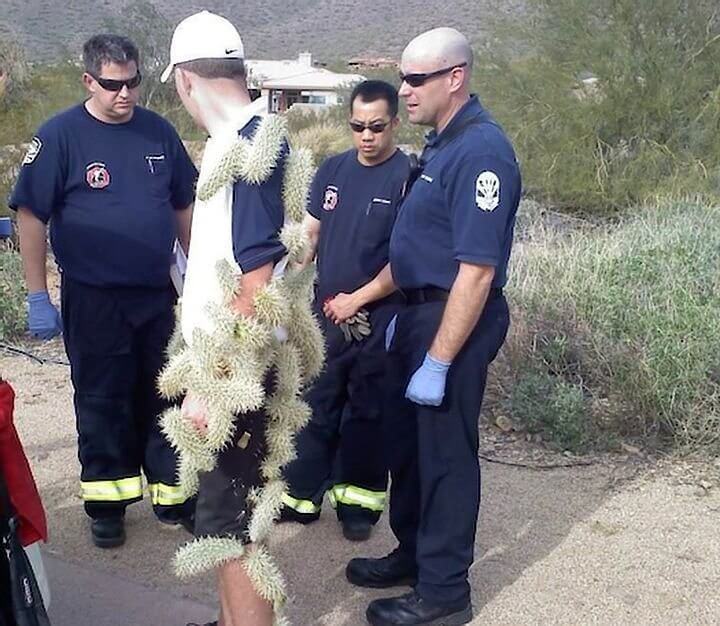 The emergency technicians helping this young man out don't even look amused. They actually just look concerned for the guy. Seriously, that looks like it had to hurt. 
What Is Wrong With These People?
When we first saw the movie Jaws, it made us swear we were never going in the ocean again. Then, another time we saw dolphins and thought they were sharks, and again we swore we were never going in the ocean again. But, we can't understand what the heck is wrong with these people, and why they're swimming while there's clearly a shark around! They must all know something we don't.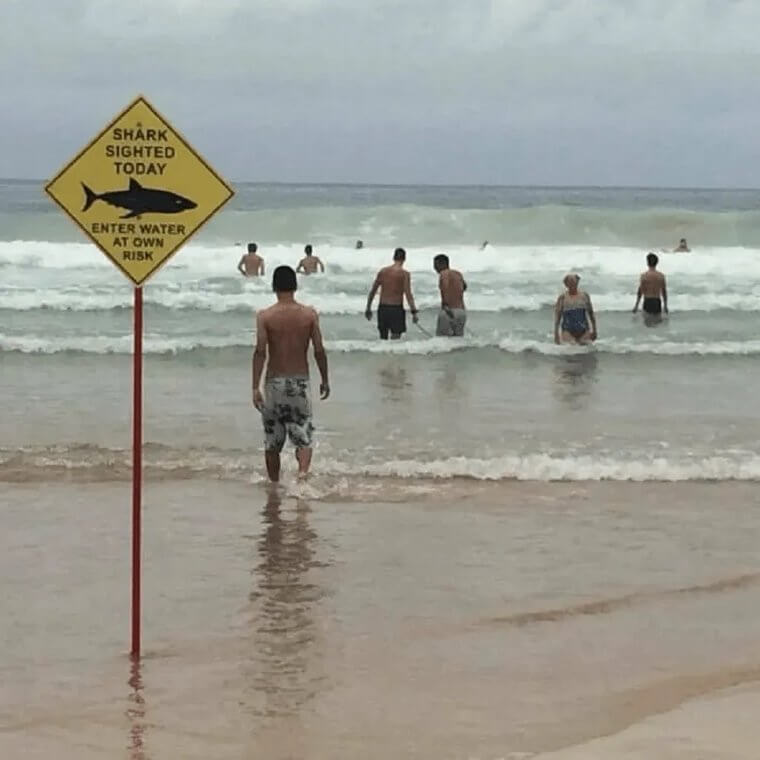 We don't care how small, or what breed a shark is, we're still going to be pretty scared of swimming with it. Even Siegfried and Roy had trouble with the tigers eventually. 
Not Exactly A Tempur-Pedic
Camping is the perfect activity for some people, and the worst idea ever for others. For instance, if you're a light sleeper who's very particular about your bed and your pillows, you're probably not going to have a good time. But, if you're like this guy, and can sleep anywhere, anytime, you're going to be all set! This guy doesn't even have a mattress, just two chairs and a cooler, but he's still sleeping soundly!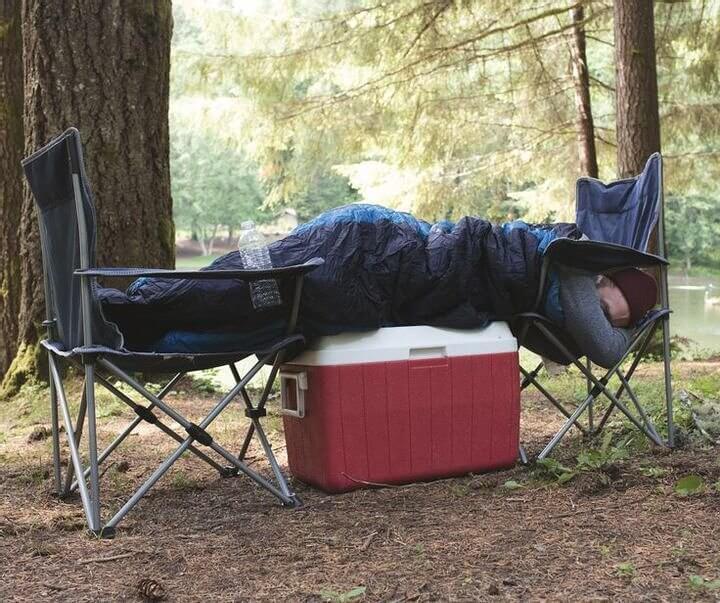 Admittedly, his neck and his back have to have hurt in the morning. Still though, what's better than spending a night outside with friends, right? 
Croc Tan– It's The New Fashion
It's not something that most people consider while going out during the summer, but just like your shorts or your t-shirt will give you a tan line, your shoes and your socks will do the same. So, if you wear crocs for a few days straight, chances are you're going to wind up with leopard feet. Don't believe us? Take a look at the picture down below and then think about it again. 
If you remember to apply sunscreen to your feet, along with the rest of your body, this shouldn't be an issue. Although, you still may wind up with some tan spots down there. 
Please Keep Hands And Legs Inside The Vehicle
Going tubing can be a lot of fun, but there's one major factor that you have to consider. Who's driving the boat? If you have someone with a lead foot (or, lead hand in this case, we guess), then you're probably going to have a lot of fun getting dragged behind the boat. But, if that's the case, just make sure to hold on tight. You don't want to find yourself getting ejected like this poor girl in the picture.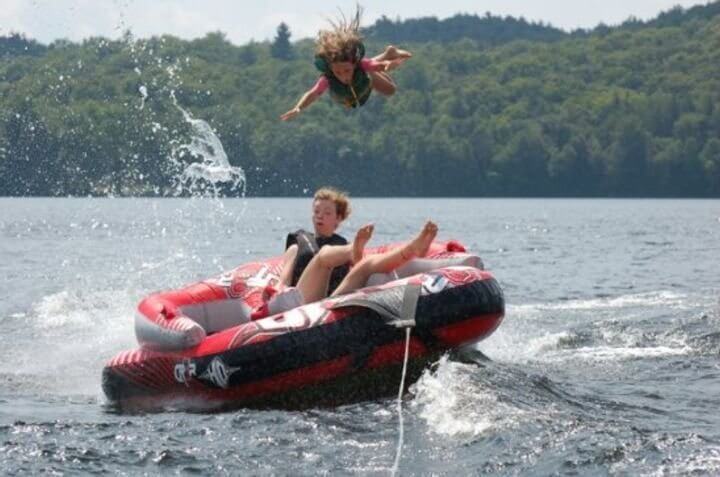 When tubing, the real trouble can occur when the boat is turning, and you are forced to cross back over the wake of the motors. So, hang on when you see your driver making their move. 
No More Eating Outside For You
It hasn't happened since we were practically babies, but we admit it, we've fallen asleep at the table before. If you've just eaten a really good meal, and it's nice and warm in the room, sometimes it's hard not to nod off asleep. That's what happened to this poor girl here, which wouldn't be a problem, except she was sitting in the sun with her plate and her spoon still on her lap! 
This has got to be one of the weirdest sets of tan lines we've ever seen. Sure, we've seen a few spoon tattoos before, but never one made by the sun. 
Is This Tent Technically Pitched or Not?
Setting up your tent when you camp is an essential part of the process that you have to be sure not to mess up. You want to pick a nice, flat area to lay the tent out. You also want to drive the stakes all the way in so your tent stays as big as possible and doesn't fly away while you're not looking. Oh yeah, and also, make sure you put the poles in correctly!
We can't tell if this tent fell down during the night, or if they just decided to climb in before erecting it. Either way, it's a major fail. 
Stay Pawsitive Out There
One of the added benefits of choosing camping for your summer vacations is that you can bring the dogs along. Your pups will probably love the opportunity to be in nature for a few days and to run off the leash. But, make sure there's enough room for them in the tent. And, maybe don't sleep right next to the window. Otherwise, how is your little friend expected to enjoy the view?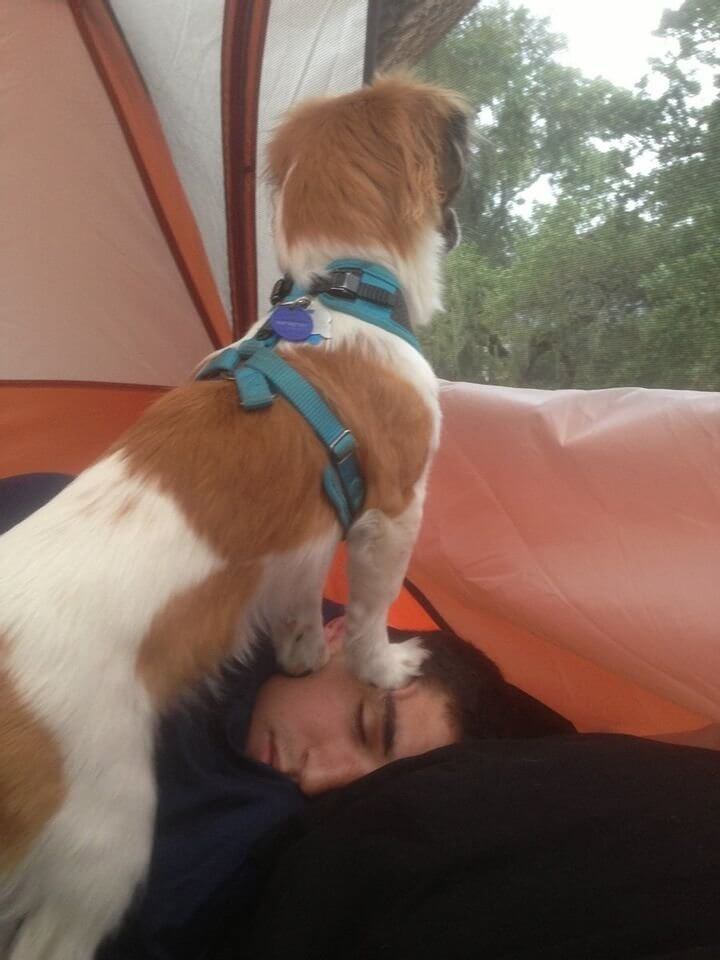 Obviously, this pooch has had enough of waiting and wants to go enjoy the great outdoors. Lucky for this guy though, he still seems to be sleeping completely soundly.
New LinkedIn Profile Picture
Even if we're on vacation, a lot of folks will still respond to work messages and emails. There's this thing in American culture where we're supposed to always be on the clock, and be ever vigilant of what the company needs. That's what this girl was probably trying to represent with this beachside laptop photoshoot. But, we're not sure if she exactly got her point across before the laptop got itself permanently retired.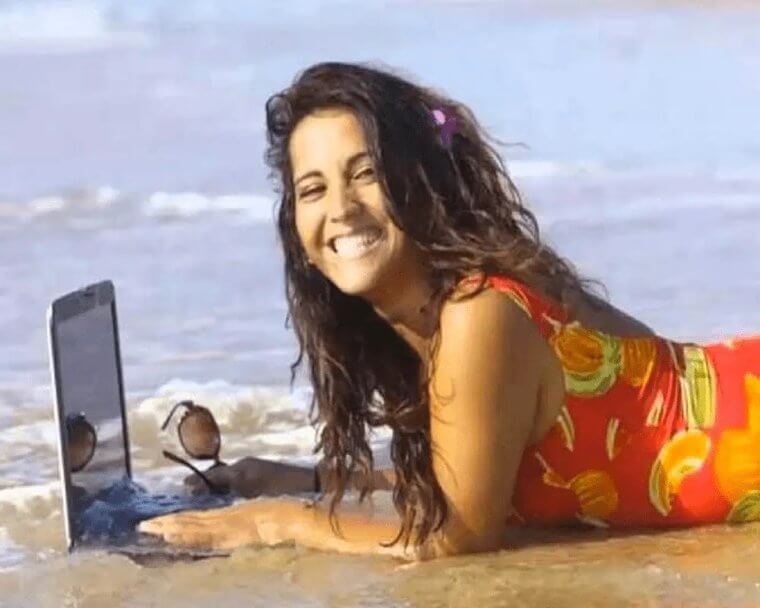 We're assuming this laptop had to be dead already. No one in their right mind could actually be this dumb, right? Actually, you know what, we don't want to know the answer to that. 
Talk About Protection From the Elements
For beginner campers, we always recommend going out with a tent. It will stop you from getting soaked or eaten up by bugs and will be an easier option than stringing an A-frame shelter with a tarp. But, don't be afraid to splurge a little on your camping gear, either. Otherwise, you'll wind up like this guy, sitting in a head-tent without any real protection. What is even the purpose of that little thing?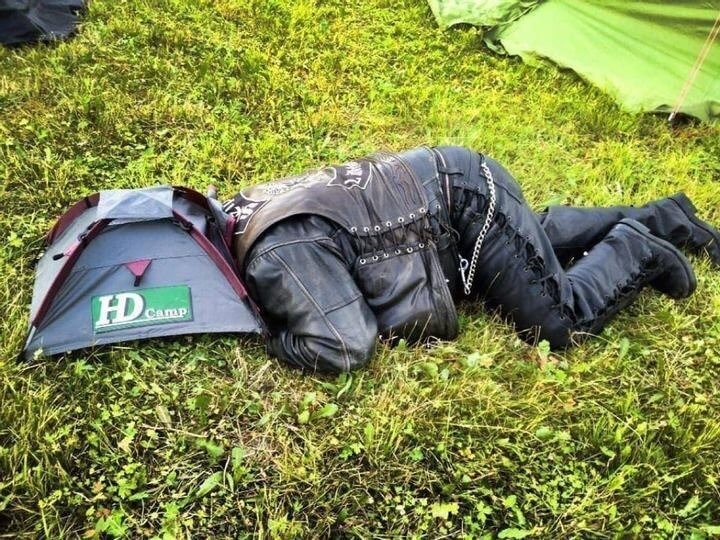 That looks more like a barbie tent than a human one. Plus, that's a big guy trying to wiggle his way in there. Do you think he'll be able to get back out? 
Taking Work From Home To A Whole New Level
One of the benefits of working from home for some people has been the ability to travel while they do their work. With just a laptop to correspond with colleagues, and their day's daily tasks, some young professionals are using this experience to see the world, and spend more time in nature. This picture clearly isn't recent, but it looks like this guy was well ahead of the curve when it comes to working from the great outdoors.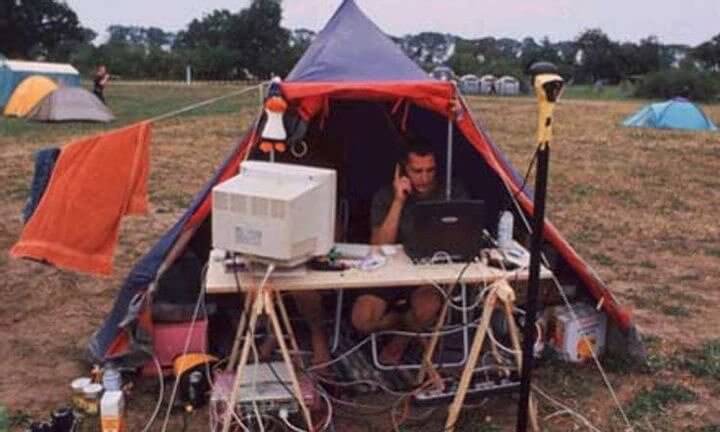 Wherever this guy was, we just hope it was the dry season. Can you imagine trying to save all your electronics by bringing them into the house, only to realize that your house is a tent? 
Can You See It?
Snorkeling is an excellent way to see some of the ocean's most interesting creatures, without having to get too up close and personal. But, with that being said, you do need to go to an area where there are fish in order to be able to see any. A snorkel isn't going to afford you any benefits in say, 18 inches of water. That's why we're so confused with what this girl is doing. 
She's already sitting on the bottom in crystal clear water, so the goggles and snorkel aren't affording her any benefit. Maybe she's looking for some lost jewelry or something? 
Peace, Love, Mountain Bike
Vacations are best enjoyed with a friend, especially a romantic one if you have a partner you're fond of (and won't get tired of by the end of the trip). You can do so much together, especially during the summer. You can camp, cook out, and even go mountain biking. Just don't make the same mistake that this guy did. The girlfriend goes in the tent, and the bike goes outside!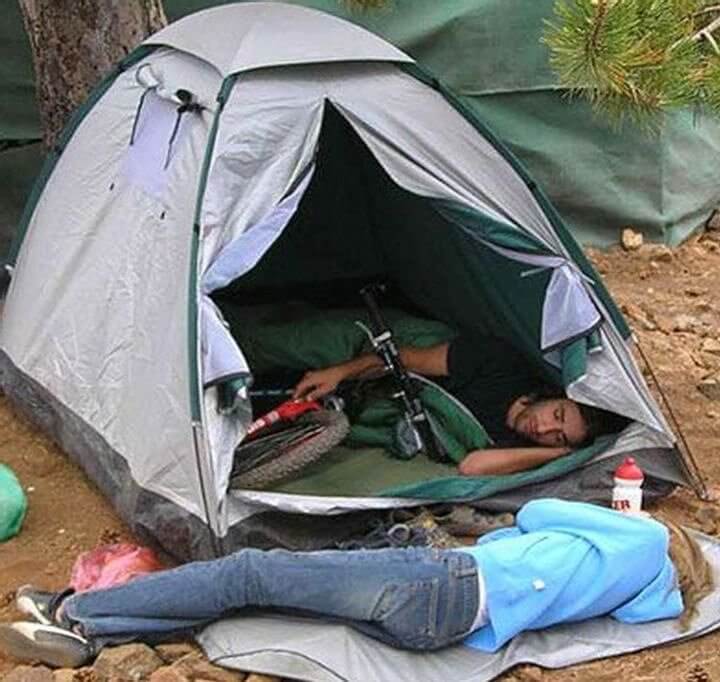 We're hoping this was staged, because there's no way the girl would've gone along with this trip if it weren't. Still, though, we guess we can't blame the guy. That is a good looking bike. 
Invitation Said Business Casual
Sometimes, deciding what to wear to the beach can be even more difficult than deciding what to wear out to a fancy dinner. You need something that you don't mind if it gets sandy, that's also cool to wear, and that doesn't clash with your bathing suit. Also, you need the right footwear, etc., etc. But, with all that in mind, we still can't figure out how this person wound up wearing this on the beach.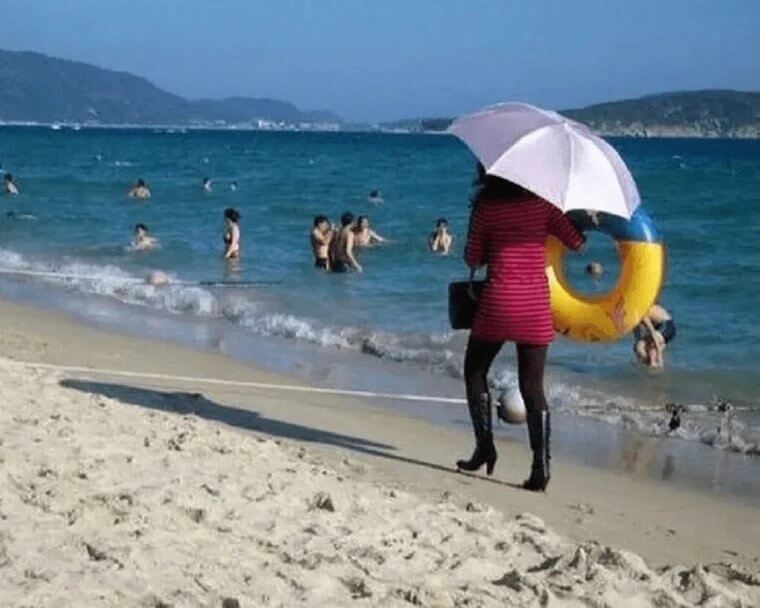 They're carrying a floaty, so this was clearly intentional. But, are they planning to go floating like that? We have a feeling they might accidentally ruin their boots. 
Stick It To The Man
At some point, you can't enforce the rules anymore. It's nice that this festival ground tried to prevent people from ruining the grass and camping by putting up these signs, but it was never really going to help. A big open field like that is just begging to be filled up with happy campers. And, by the time the first person put their tent down, we're sure another fifteen were already on the way.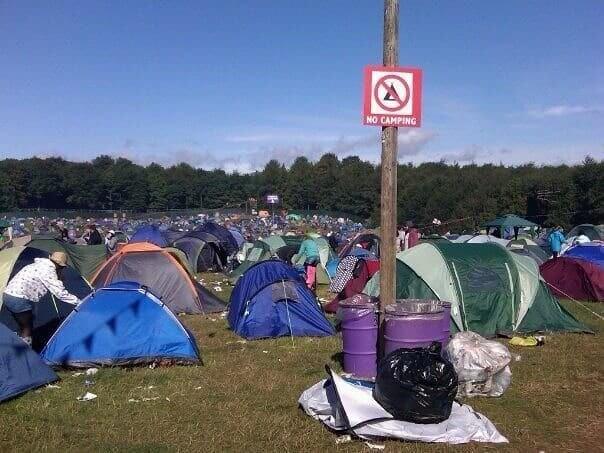 For the sake of the person who put up the sign, we just hope these people collected their garbage once they were done. Nobody likes a discourteous camper! 
Flood? What Flood?
If any of you are familiar with it, there's an old Bobby McFerrin song about not worrying and being happy, and this guy perfectly embodies the spirit of that song. His campsite is completely washed out and looks like it's sitting under a couple of feet of water. Still, he's relaxing on his floating air mattress without a care in the world. So, next time we go camping, we're going to try to be more like this guy.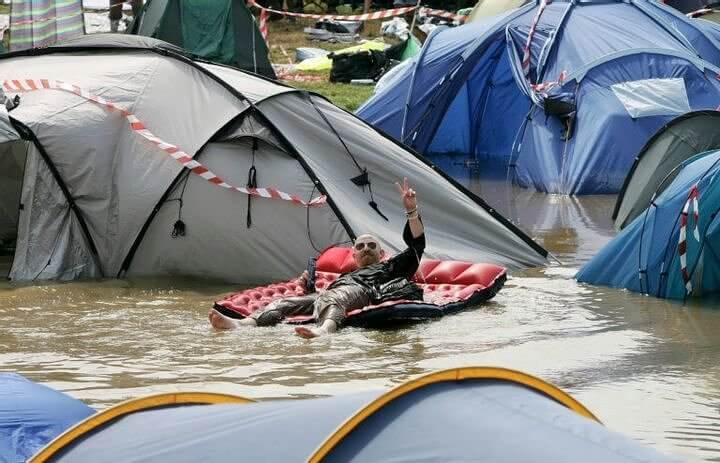 Here's another small tip for some of you inexperienced campers out there: don't set up in a floodplain during hurricane season! This is common sense stuff, people. 
Obviously Not An Outdoor Cat
This poor feline got worried when his parent's took him out of the house one Saturday afternoon. He was worried they'd be headed to the vet! Instead, he got something much, much worse. They took him to the beach, and he had to deal with hundreds of dogs, a leash, wet dirty sand, and a bunch of freezing water! The whole experience sounds like a poor house cat's worst nightmare!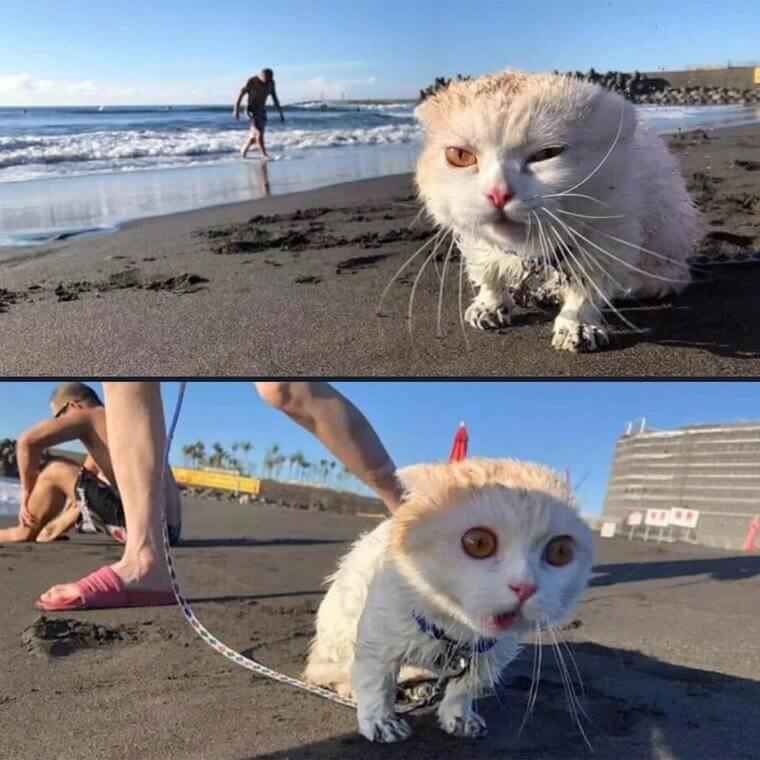 You can practically see the trauma on this poor cat's face. We feel like once he got home, he deserved a warm blanket and a lot of tasty treats for being so brave. 
Worst Ladder Ever
If anyone ever offers you a place to sleep in a design like the one down below: run. Why anyone would sleep like this is completely beyond us. A bunk bed is one thing, but stacking eight hammocks one after another going up into the air (almost a full two stories in the air it looks like), is just a terrible idea. Someone is going to get hurt, or worse, have a terrible night's sleep.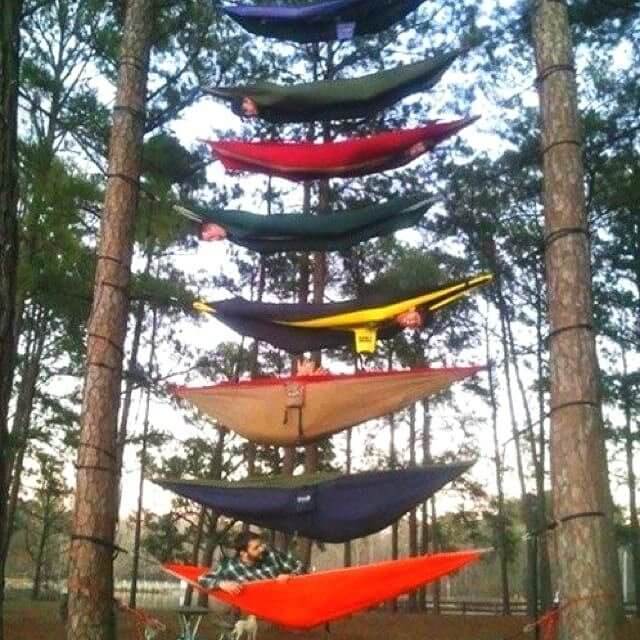 Can you imagine trying to get down from here for your morning pee? You would probably wind up waking up every single person in the stack.
Do You Eat With That Rake?
We love food that's been cooked over the campfire. The smoke imparts a quality to the food, unlike anything you can get inside of a conventional kitchen. Plus, we really feel as if cooking over a fire unleashes the caveman within us all, allowing us to commune with our past and learn more about our present. Plus, it allows us to find new uses for primitive tools, like this kid with his rake-turned-weenie-roaster!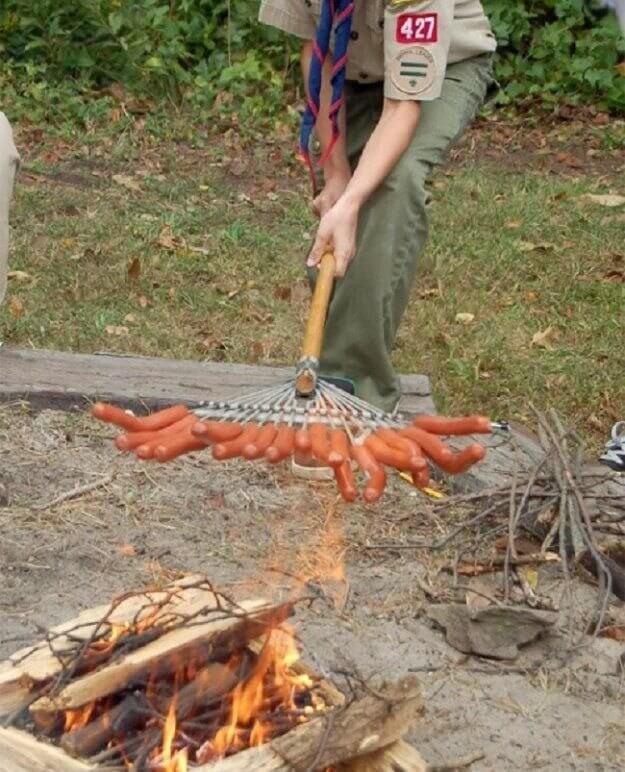 We're hoping he at least took the time to wash this rake over before using it over the fire. Nobody wants to find a dead leaf inside their hot dog. 
Watch What You Wear On Consecutive Days
Tan lines are the worst in the summertime. That's why it's important to get your tan early, and get it on with your smallest suit. However, what happens if that suit is a woman's suit, and you don't want anyone to know you're wearing it? Well, then you're screwed essentially. Just look at this guy. He's trying to hide the fact that he wears a thong bathing suit, but he's having a little trouble covering up. 
With his first bathing suit being so small in the first place, maybe this guy just belongs on a nudist beach. He's probably fit right in over there! 
Splish, Splash, We Were Taking A Bath
While camping, people have the opportunity to cast off some of the modern comforts of life in the city, and to rough it for a few days. Although, if they so choose, and they think hard enough, these same people can probably find ways to bring those modern comforts out to the wilderness with them. Case in point, take a look at these two people in the picture down dragging a whole bathtub with them into the forest.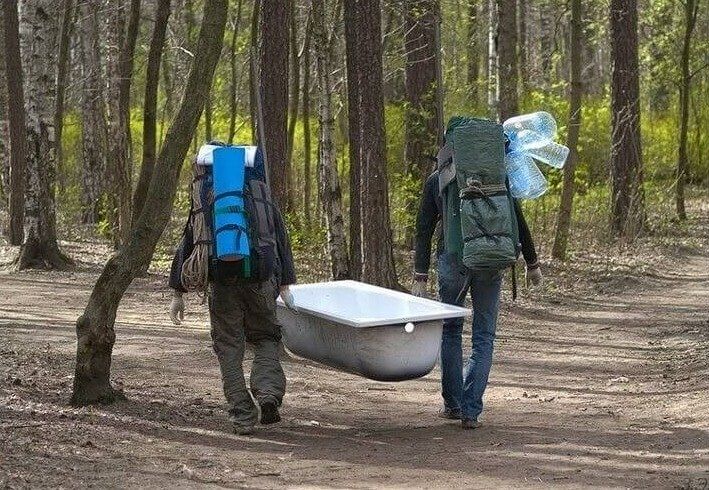 These guys also have a lot of water bottles with them, so they're definitely planning to fill the tub up with creek water. But, why not just bathe in the creek if that's the case? 
What Is He Watching?
We've all grown so accustomed to the everyday comforts in life, that it can be hard to let go when you're headed out to the wilderness for a little while. This guy is a perfect example of that. Even though he's got the perfect setup in this gorgeous green pasture, he still ran an extension cable and is sitting there watching television. And we're not 100% sure, but it looks like he's watching a video of a campfire, doesn't it?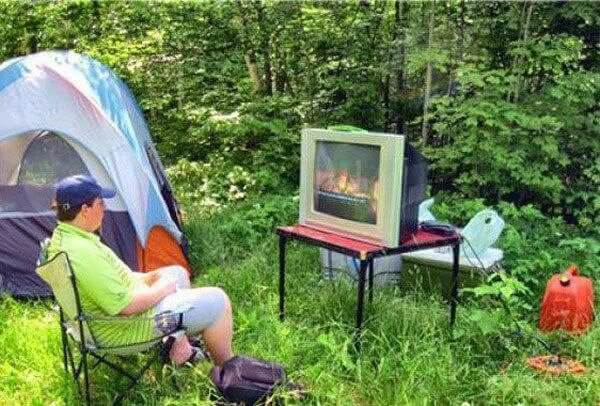 We're hoping this guy has a good excuse because this just looks like a colossal waste of time to us. 
No Thanks, We'll Watch From Here
It's one thing to go on an adventure, and stay out in the wilderness for a few days at a time. It's another thing entirely to rappel up the side of a cliff and to bivouac there for the night. Seriously, who does this kind of thing? Plus, look how relaxed they both are. He's just peering off the edge, and she's comfortably reading. They both must be totally crazy.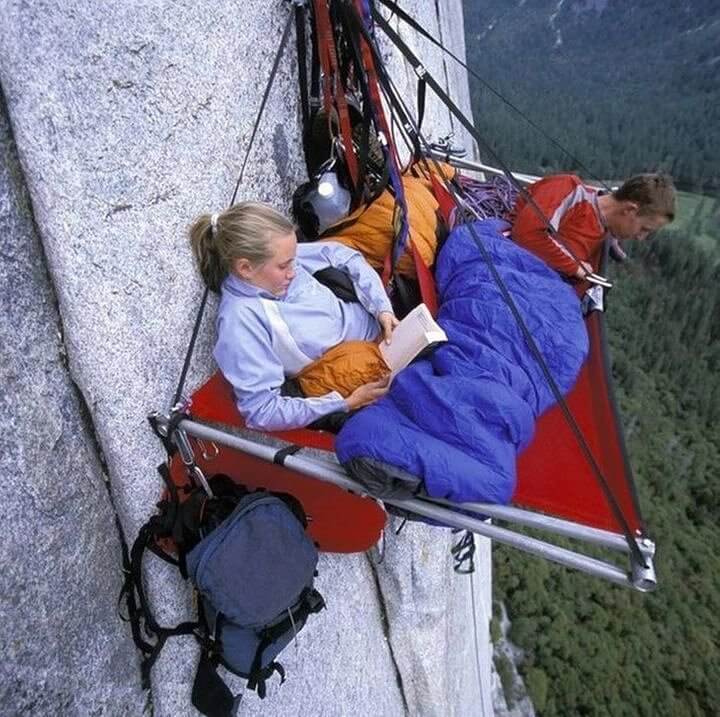 We know this probably doesn't count as a camping fail, but count the fail as just how scared this picture makes us. We're having vicarious anxiety just by looking at those two all the way up there. 
Worst Seashell Ever
One of the best parts of going to the beach in the summertime is picking through the sand by the water's edge and looking for seashells. We always used to compete with our siblings to see who could find the prettiest shell on the day. But, if we had found this shell when we were younger, we don't know whether we'd have been horrified, or giggling hysterically like the little girl in this picture.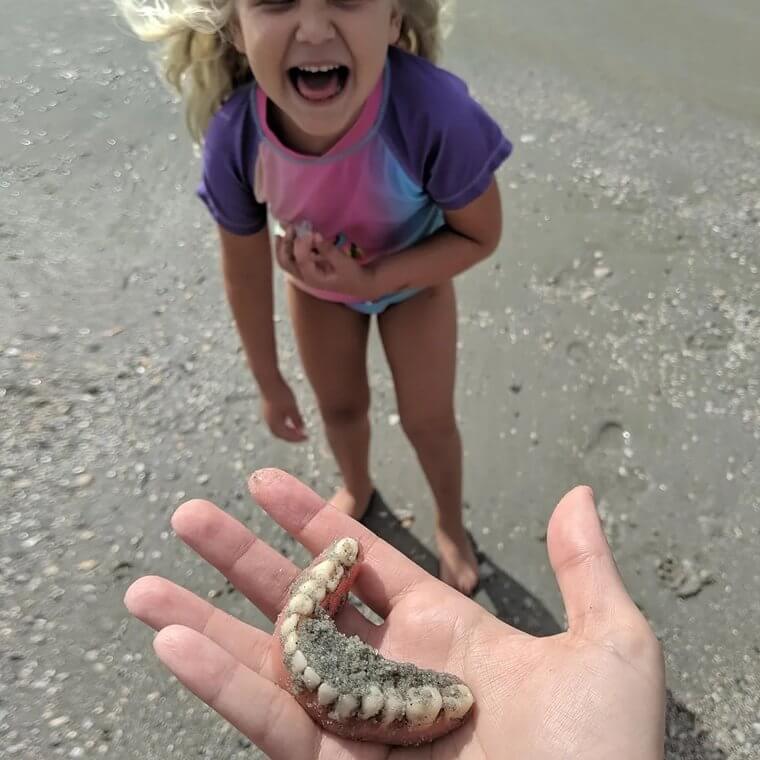 The story of finding this pair of dentures in the ocean will probably be retold by this family for years to come. The story of someone losing their dentures in the ocean will also probably be retold by that person's family for years to come as well. 
Take A Picture, It'll Last Longer
Listen, we get it, you go to the beach and there are hundreds of beautiful people around you. But, it's never ok to leer at people in the creepy way that the guy in this picture is doing. He's showing absolutely no shame, and just staring at this woman. In fact, he's been staring at her for so long, that someone had time enough to grab their camera and snap a photo of it.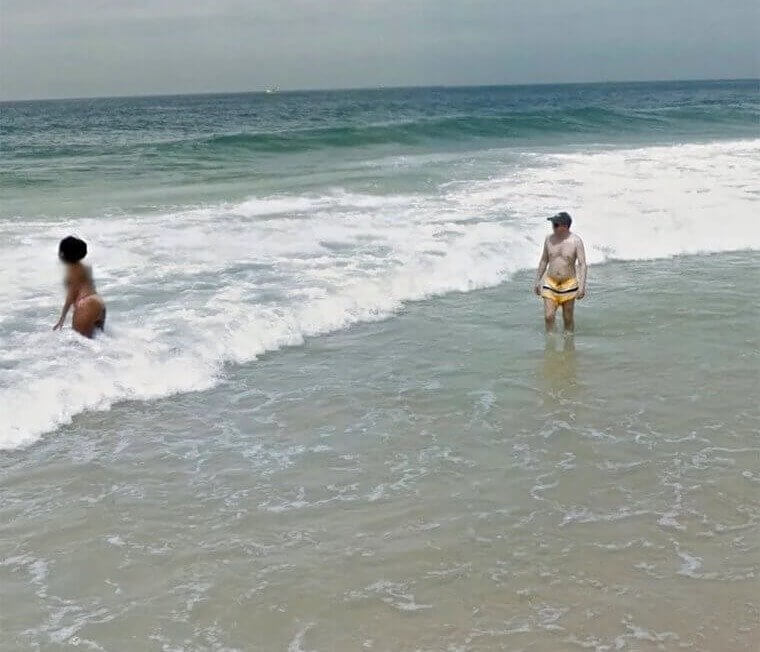 If that's not bad beach etiquette then we don't know what is. Remember, it's important to be respectful of everyone around you during these summer months, just as it is throughout the rest of the year, even if you do feel like cutting loose. 
Fun For Everyone
Have you ever been stuck as the third wheel on a date? It can be so brutal if the couple is arguing and trying to involve you, and so boring and gross if they're enamored with each other and paying you no mind. That's what we think happened in the picture down below, where a young couple is busy getting down to beach business, and their friend is just stuck there looking sad.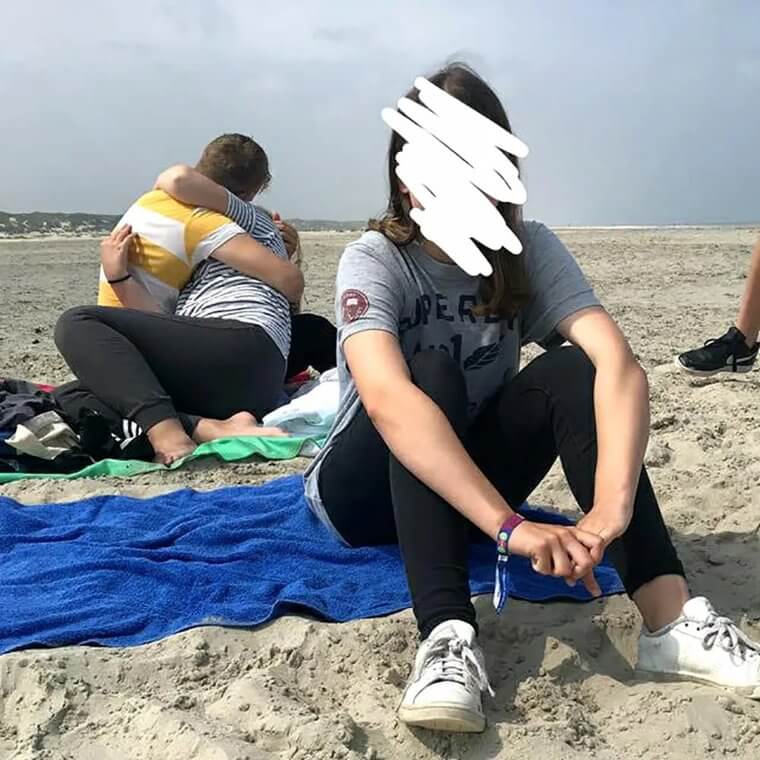 With everyone wearing pants and the sky being gray, this doesn't even look like a summertime beach session. So, she can't even go in the water to distract herself from them, the poor girl! 
Not Sunscreen After All
If you live close enough to the beach, you can decide every now and again to have an impromptu beach day and march right down to the water. However, if you're going to do that, you might want to have a beach bag already ready. Trying to throw everything together and quickly get out the door is a recipe for disaster, something this guy learned the hard way when he grabbed an air freshener can instead of his sunscreen.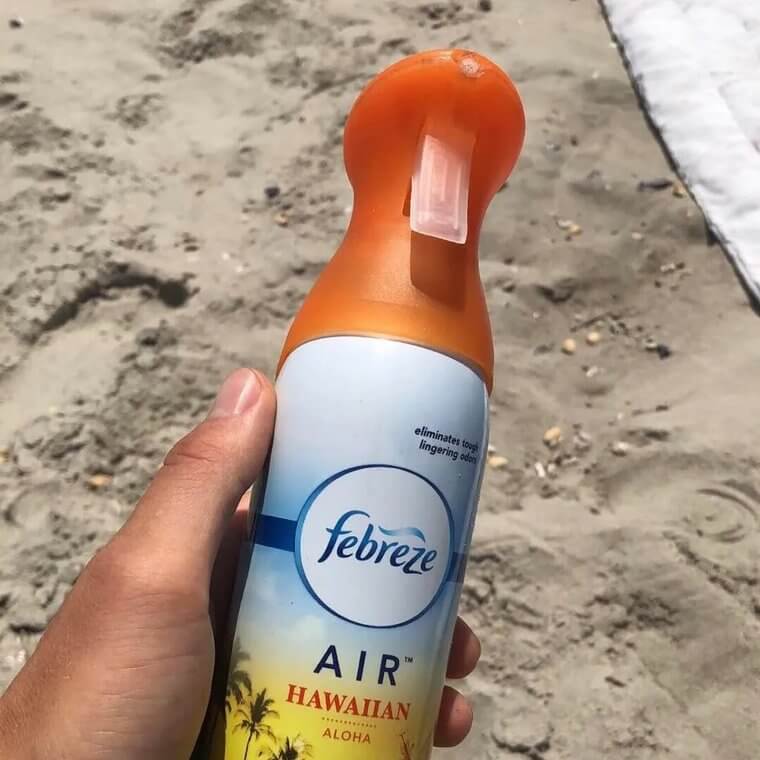 The funniest part about this is that the air freshener is Hawaiin-scented. So, it probably already smelled like the beach when this guy grabbed it and brought it with him! 
Swinging Into Summer
Even though you feel cheesy while doing it, it's nice to take some of those classic tourist photos with your friends while traveling. So, for example, when you're in Thailand, or Cambodia, or Central Vietnam, you might want to take a classic photo with one of the jungle swings on the beach. But, if you're going to do that, just make sure to do it right, and not like these two gymnasts in the picture down below.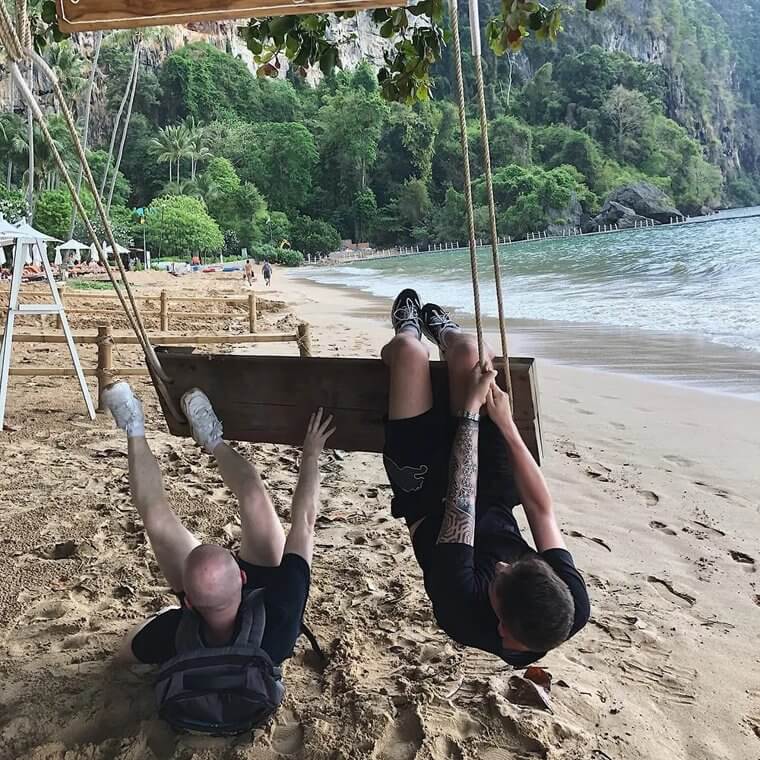 These guys took a swingset and turned it into a Ninja Warrior course or something. It's not that difficult just to sit still, is it? 
These Patterns Just Don't Match
There's nothing worse than going out with a friend who doesn't have the best fashion sense. Ok, fine, there are definitely worse things, but it's still embarrassing! Just look at this guy, all decked out in his summertime best, which happens to include overlapping and conflicting patterns of Hawaiin print. We know maybe pastel isn't for everybody, but is it too much to ask for you to just stick to one pattern at a time?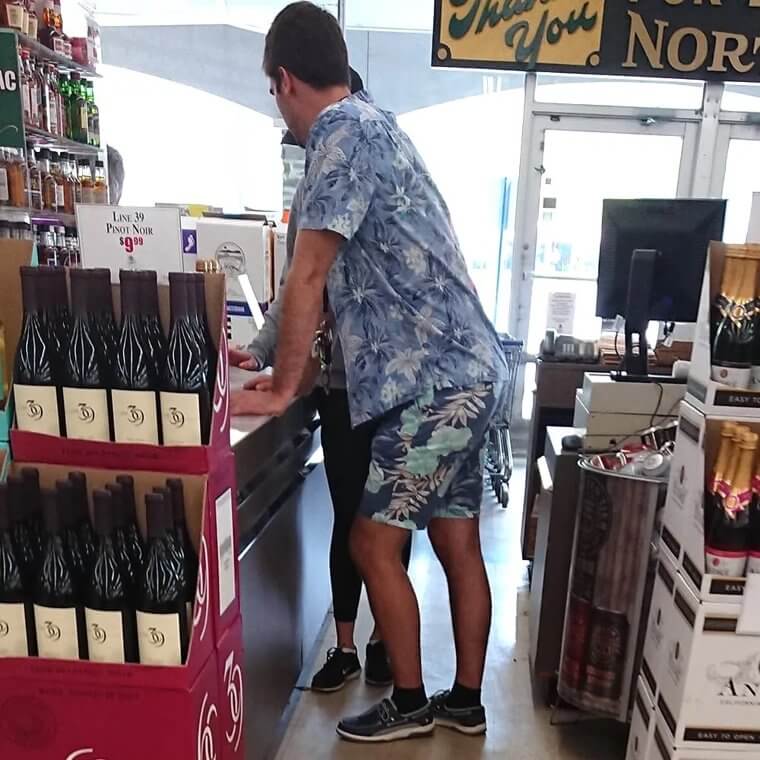 Maybe we're being unduly harshe. Besides, once this guy is at the pool, he won't be wearing his shirt anyway. Although, we're not sure if that's going to be any better. 
An Organic Beach Experience
When we go to the beach, we love seeing everyone's pets running around in the sand and enjoying themselves. Some dogs dig holes, others chase balls, and some families bring weirder pets with them, like a bird or a cat. But, we've never seen anything like this before, where you've got a bunch of cows just sitting in the middle of the beach. They're totally stealing this woman's shade too!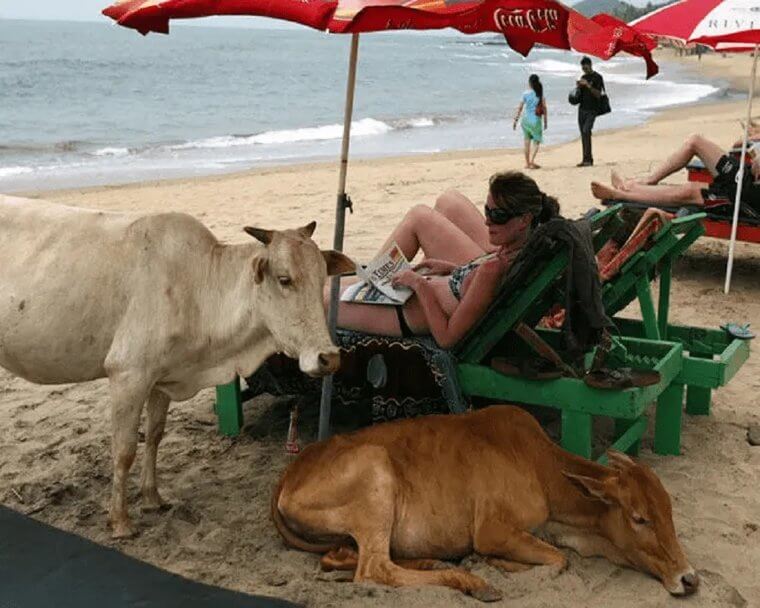 These cows look friendly enough, but we're not so sure if we'd want them along for our beach vacation. Things could get pretty smelly, pretty quickly if you're not careful. 
That'll Show Them
There should be a whole page on the internet just for pictures of places where someone put up a sign, and everyone else completely ignored it. Case in point, in the picture below, there's a big irrigation pipe running along the beach that the authorities need people not to mess with, and they put up a sign stating as much. The result? Everyone in a five-mile radius started playing with the pipe.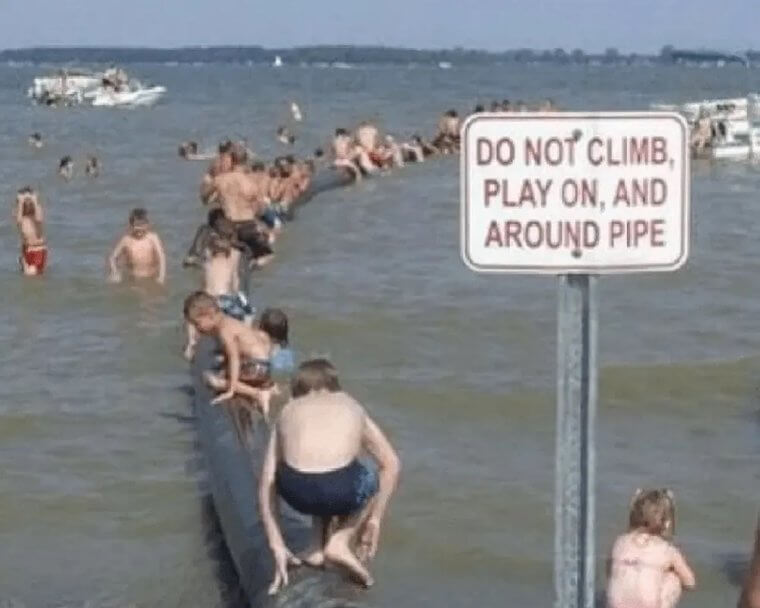 Can you really blame any of the kids in this picture? That thing honestly just looks like a giant pool noodle when you really get down to it. 
The Wrong Man For The Job
Scuba diving isn't for everyone, especially because it requires a lot of complicated (and expensive) equipment, along with certification, in order for someone to really enjoy it. That's why this picture cracks us up so much. This guy clearly doesn't have a scuba certification or the right gear, but he's playing along and making himself look as cool as possible regardless. Nevermind the fact that he's strapped a propane tank to his back.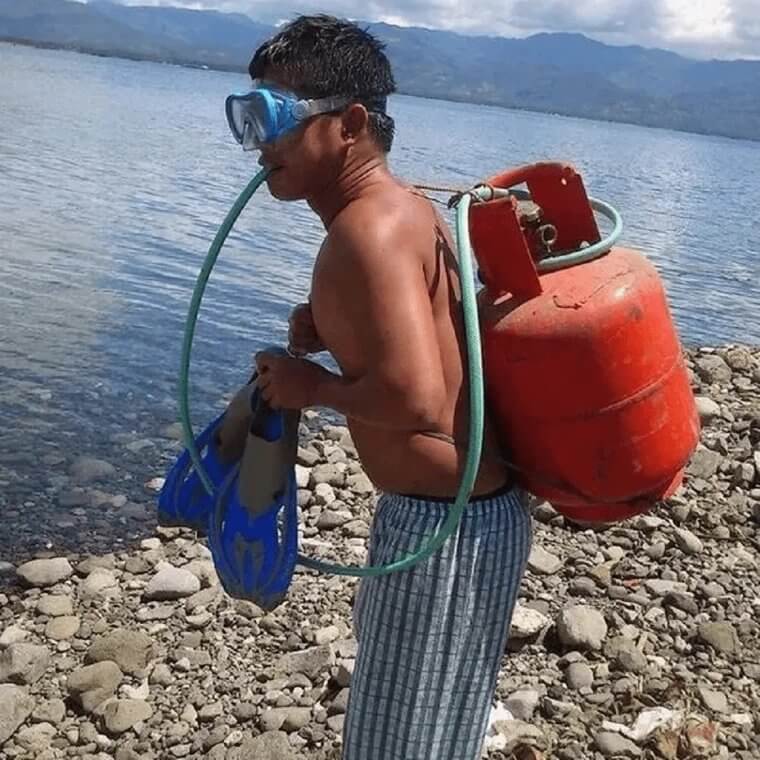 This guy would be much better off snorkeling than scubaing. And, he's going to need to leave the propane tank on the shore. Still though, he looks like the type of guy we'd be happy to go to the beach with. 
It's A Social Media Moment
If you're in a relationship, chances are that at some point, your significant other will ask you to take a cheesy couples photo. But, if they do it in the right location, you might be able to get payback. Case in point, this guy's girlfriend asked him to do the little hand-holding look back and take a picture thing, and instead, he punted her into the drink! Talk about a social media moment, right?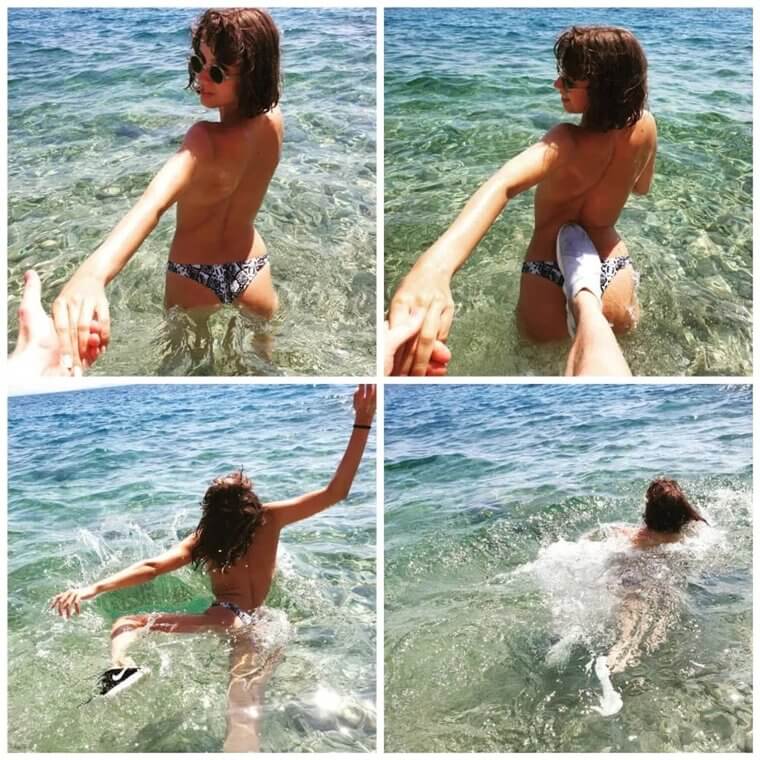 You can already tell on the way down that this girl is not happy. So, we have a feeling this guy probably forfeited a good afternoon of his vacation for this joke. 
Never Skip Leg Day
Some pictures leave you with more questions than answers, and the one down below is no exception. We cannot figure out what's going on with this guy, but we really want to know his whole life story. Why is his top half so dark while his bottom half is so light? Does he only suntan in pants? Why all of a sudden did he switch to shorts on this day? 
If anyone knows this guy, please tell him to give us a call. We have an idea for how he can even out his tan, but he's going to need to find a nudist beach. 
No More Tank Tops For You Buddy
Going out to the beach in the summer without sunscreen is a dangerous sport, but do you know what else is a dangerous sport? Playing sports without sunscreen in the summer! This guy in the picture below can tell you, it's one of the most dangerous sports of all. Especially for a redhead like him, you just think the heat and the red skin is from playing hard and enjoying the game, but later you realize it clearly wasn't. 
If you ever find yourself with a sunburn this bad, the best thing we can suggest for you to do is to find a bottle of aloe vera and apply liberally. 
It's The Tan Line Family
There's nothing that encourages a group to bond more than taking a long, adventurous trek together. By the time your group reaches the summit, or the waterfall, or whatever scenic item you're going to see, there's going to be a much greater degree of camaraderie within the group. Also, if you all wind up wearing the same shoes and hiking in the sun, all of your feet are going to have the same tan lines. 
Unless you plan to walk around barefoot, this really can't be prevented. So, you might as well just remember to lotion up the exposed parts of your feet and enjoy the ride. 
The Classic Mugshot Hat Tan
If you're seeing a picture of somebody, and that picture is a mugshot, then you know they've already gotten themselves into some trouble. But, this guy's trouble started long, long before the mugshot was taken. His trouble started when he spent an entire day in the blazing sun with a backward hat on his head, and no sunscreen on his face. He wound up with a hat burn worse than anything we've ever seen! 
It's not going to help him commit any crimes to be this recognizable either. There aren't that many people running around with big, bright red semi-circles on their foreheads. 
That Is One Sweet Shirt
Most of the time tan lines are embarrassing. But, every now and again they actually work to make a person look even cooler, if that makes sense. We know it sounds crazy, but look at the picture down below. Doesn't it look like this girl is wearing a really stylish two-tone top? Looking closer, it's clear it's just tan lines and a low back shirt, but now we have an idea for a new style of fashion we want to try... 
We were thinking some more about this picture, and we're not so sure if this shirt was the right pick for this lady. It's only going to make her tan lines even worse! 
A Sun Burn So Red That It's Purple
Have you ever looked at a picture and instinctively cringed? If you answered no, get ready to do it for the first time because this guy's sunburn is one of the worst that we have ever seen. Apparently, this dude passed out at the pool while wearing his sunglasses and a hat, and didn't wake up until he'd turned three shades redder than a tomato. We just hope he has some aloe vera handy.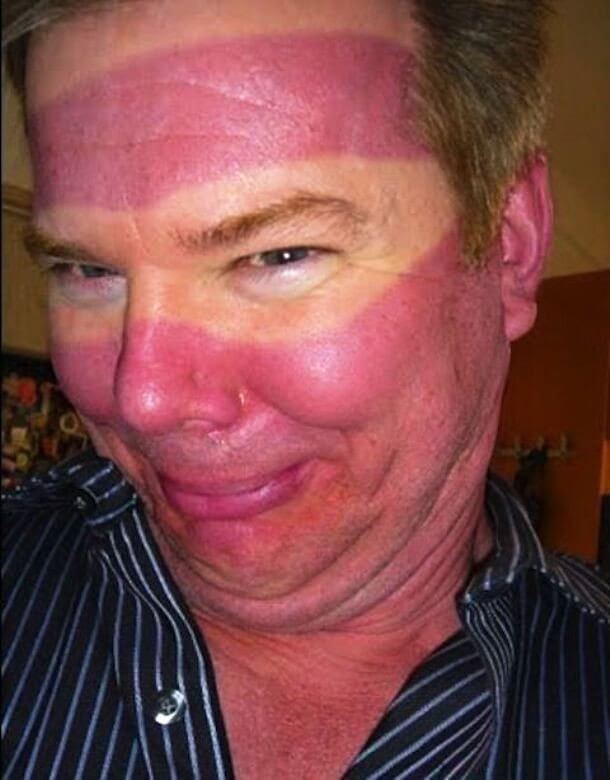 All things considered, he does look to be taking this surprisingly well. You'd expect him to be wearing an expression of pain on his face, but this whole thing just looks like one big joke for him! 
Not The Kim Kardashian Pic You Were Expecting
If we put the words Kardashians, and summer, in the same sentence, you're probably expecting a bunch of swanky photos of bikinis and yachts and the Hamptons or something. Instead, we wanted to share with you this classic picture of Kim. This picture proves that no one is immune from the harsh rays of the sun, not even celebrities with their own skincare lines. Unless of course, this is just some new modeling technique we don't know about.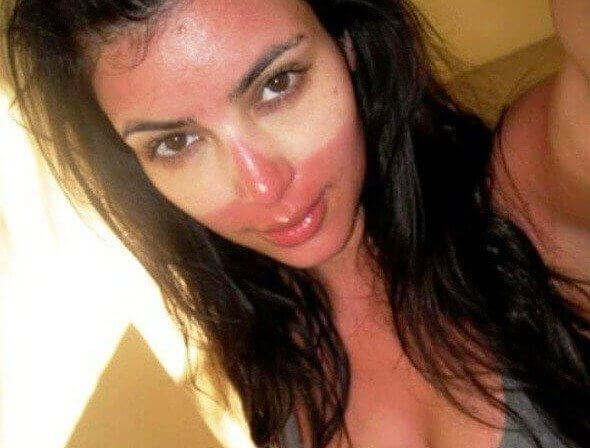 When your skin gets burned this badly, you can feel the heat rising off of it for days. So, it's important to properly moisturize your skin so that it can start to heal at this point.