The Earth is filled with beautiful places. Nature has a way of creating magical places that take your breath away, some even reminiscent of a fairytale setting. This list of surreal places will not only take your breath away, but they will spark your inner travel bug. So get ready to book your tickets and see these picturesque places for yourself.
1. Pamukkale Thermal Pools, Turkey
These pools may look like they are made of ice and snow, but the climate is actually warm year-round. The Pamukkale hot springs are coated in a white limestone giving it a snowy appearance. The bright blue pools against the white rock give it a dreamy appearance that is perfect to fill your Instagram followers with travel envy.
2. Grand Prismatic Hot Spring, Wyoming
This rainbow pool is something out of our childhood dreams. Located in Yellowstone National Park, this is the third largest hot spring in the world. The best way to experience it is from above. Luckily, the park has a viewing platform to take in the heat, smell, and magical colors of this amazing hot spring.
3. Fly Ranch Geyser, Nevada
Not all geysers are created equally. In fact, the Fly Ranch Geyser was created by mistake when a well drill was left uncapped. This technicolored wonder might be apart of the Burning Man festival in the coming years. This alien-like mound is a great place to take in the nature that surrounds it.
4. Underwater Waterfall, Mauritius Island
This almost seems like an optical illusion, but the water is actually flowing into the abyss below. Located in the Indian Ocean, Mauritius sits on an ocean shelf that has a drop off point creating this waterfall effect. Sand is continuously being pulled from the shores by the strong ocean currents. 
5. Zhangye Danxia Landform, Gansu, China
It is hard to believe that this multicolor mountain range actually exists. Over millions of years, layers of different color sandstone pressed together giving it the nickname, Rainbow Mountains. The wind and rain shaped the rock formations into pillars, towers, ravines, valleys and waterfalls. It is a site you have to see for yourself. 
6. Sentinels of the Arctic, Finland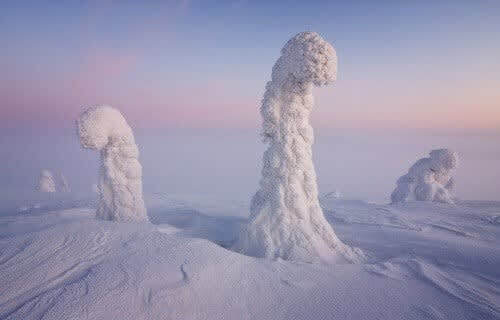 You are going to need some warm clothes when you visit here, as temperatures typically range from -40 to -15 degrees centrigrade in the winter. During the cold months, there is heavy snowfall, and large trees get covered in snow and ice. This creates a strange site like a frozen jungle from another world. 
7. Turquoise Ice, Lake Baikal, Russia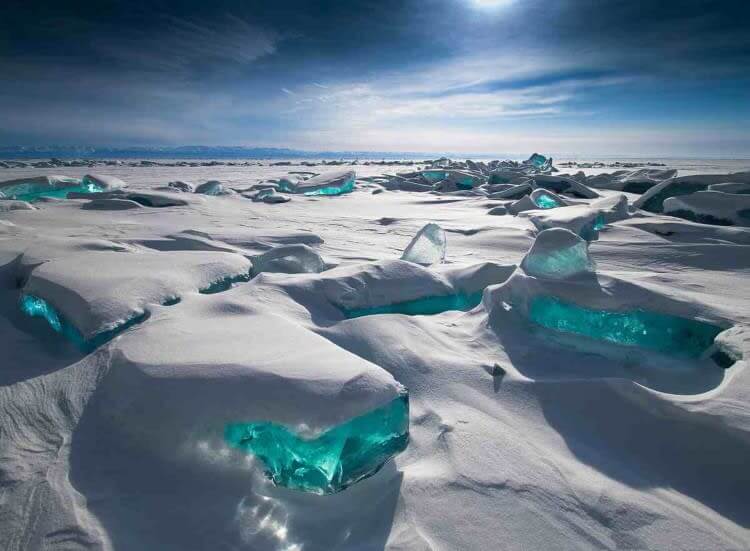 Another exciting spot for everyone who loves winter. Lake Baikal is the world's largest freshwater lake. In the winter, you can see 130 feet below the ice because it is so clear. On a sunny day, the light reflects off of cracks in the ice, resulting in beautiful turquoise shards.
8. Lake Natron, Tanzania
Although Lake Natron is beautiful, it is not a place you will want to swim. The water has such a high pH that it burns the skin and eyes. It is still a sight to see due to its blood red color from bacteria that grows on its surface. 
9. Giant's Causeway, Northern Ireland
Where the land ends, the causeway begins. Dating back millions of years, these near-perfect hexagon tubes have an interesting legend. Many believe that an Irish giant used this causeway as a path to teach a Scottish Giant a lesson. It is unclear who won the epic battle, but it is clear that this site is one to see. 
10. Wisteria Flower Tunnel, Japan
Taking a stroll through this enchanting scene is like nothing you will ever experience. The tunnel is covered with different colored flowers as if it is straight out of a painting. Hopefully you aren't allergic to pollen.
11. Patagonia Marble Caves, Chile
These color-changing caves are definitely a breathtaking sight. The caves were formed by thousands of years of waves crashing inside this marble formation, creating smooth walls.  The water reflects onto the cave walls, and depending on the water level and the season. To see this dancing display of color, you have to take a 30-minute boat ride. 
12. Skaftafell Ice Cave, Iceland
If you love a light hike and cold weather, this ice cave should be at the top of your travel list. The Skaftafell Ice Cave is part of a large glacier and once inside you can experience the calming blue light from above and the feeling of being in a giant natural freezer. 
13. Antelope Canyon, Arizona, United States
Sitting on the border of Arizona and Utah, is a unique sandstone formation creating a wavelike landscape. To many this canyon is known as "The Wave". In the Winter, the Wave looks like a mashup of Mars and Antarctica. This makes for one heck of a photo-op!
14. Yuanyang County, China
If you love taking an unusual trip, a visit to Yuanyang County should be added to your travel list. Located in southwest China, these rice terraces are best seen after the harvest in late November to Early March. You can stay over in the close by Xinjie Town. 
15. Trolltunga, Norway
This view is sure to take your breath away. Translating to Trolls Tongue, this cliff hangs 2,000 feet up in the air. The hike will be worth the awesome Instagram you will get.