Are you tired of struggling with bulky suitcases and overstuffed carry-ons every time you travel? Fear not, because flight attendants have got your back! These savvy travelers spend most of their lives in the air, so they have picked up some serious packing hacks along the way. Whether you're embarking on a week-long vacation or just a quick weekend getaway, these packing tips will help you maximize space, keep your belongings organized, and breeze through airport security. So fasten your seatbelts and prepare to take notes because these flight attendants' packing hacks are about to change how you travel.
Straws Keep Necklaces Tangle-Free on the Go
If we have learned anything from traveling over the years, it's that necklaces are the bane of traveling life. No matter how hard we try - putting them in their original boxes, specialized jewelry boxes with loops - they end up tangled. Most of the time, there is no coming back from those tangles, and unfortunately, that usually signals the end of our favorite necklace. But there is a better way! By threading the necklace through a simple straw and closing the clasp, the plastic guarantees a safe journey for your valuables.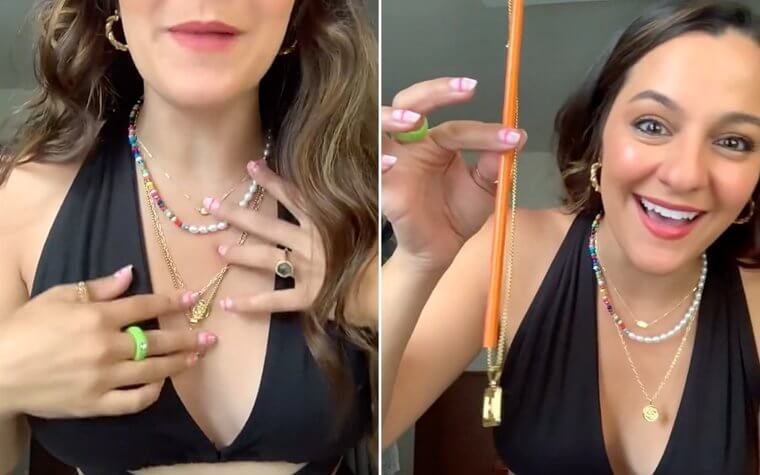 The straw should be hard, reusable plastic, metal, or bamboo to ensure that it doesn't bend or fold during the journey. 
Shower Caps Keep Shoes Clean and Organized in Your Luggage
Shower caps are a genius packing hack - they have so many uses! Instead of wasting time cleaning the bottoms of shoes before a trip, simply slip a pair into a handy shower cap, and the work is done. As well as being cheap and disposable, shower caps have all kinds of uses when traveling, for both hand luggage and bigger cases. While out exploring and the weather turns rainy, a shower cap can come in handy for electrical items like cameras or phones!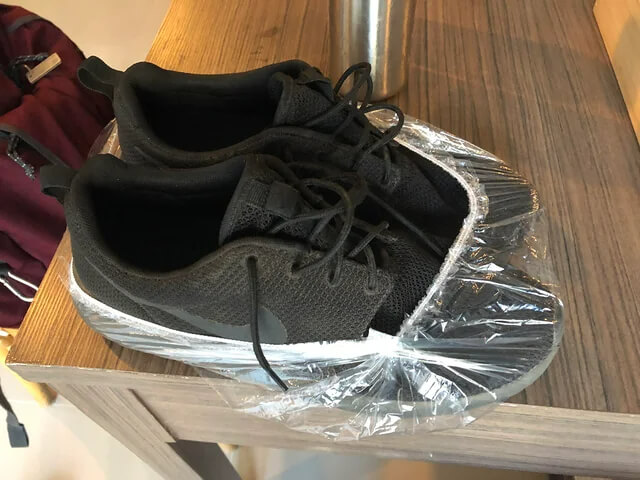 Next time a hotel leaves shower caps out for use, be sure to stash some away - they have so many uses, it pays to always have one handy! 
The Belt Trick for Keeping Your Dress Shirts Wrinkle-Free
Show us the person traveling for business who is ok with wrinkly work clothes! Nobody wants to show up to a board meeting the morning after a flight in a wrinkled shirt, pants, or suit. Enter our packing hacks for traveling with smart business attire. Firstly, pack that suit or jacket inside out to avoid creasing. Secondly, tuck a wound-up belt inside the neck opening of a dress shirt to maintain a crisp, stiff shirt collar.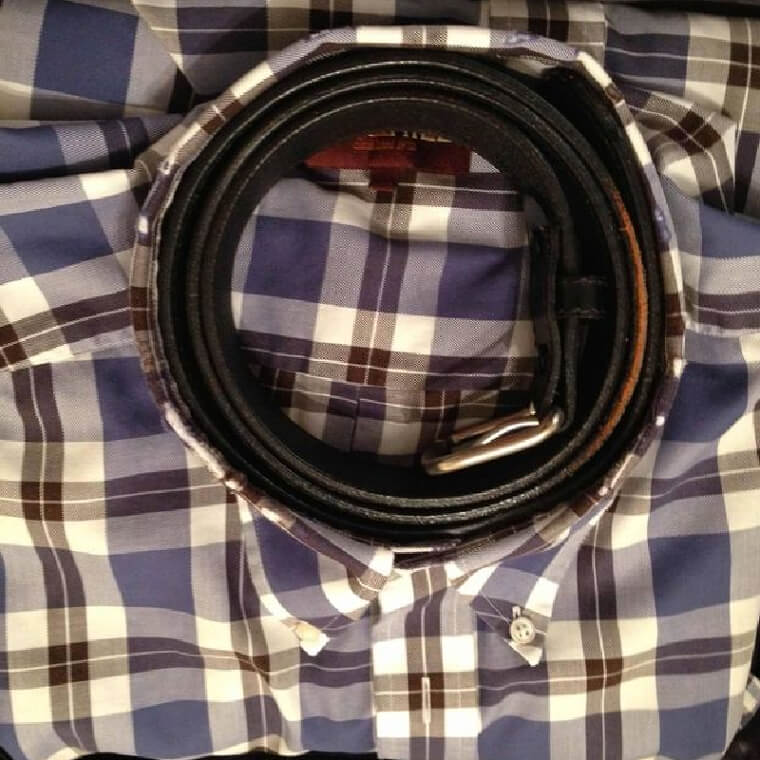 Packing a belt inside the shirt opening also prevents the collar from being squashed during transit. This savvy packing hack will save a lot of headaches! 
A Pill Box Is the Secret to Storing Your Jewelry
Sure, there are fancy jewelry boxes and roll-up bags, and all kinds of expensive options out there. But why go complicated when we could go simple? Cheap and cheerful, the plastic pillbox is normally used for organizing medicines into days of the week or times of the day. But they have another important use when traveling - jewelry storage! Just snap each compartment shut, and the items will travel safely and securely.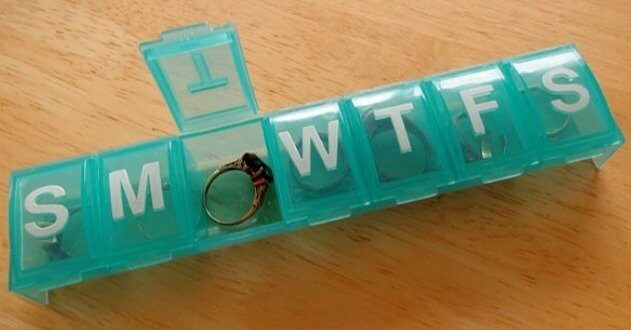 Planning on a few different outfits that require different accessories? Pairs of earrings and rings will fit neatly into the pillbox compartments, taking another travel stress off your shoulders.
Cotton Pads Can Save Your Cosmetics From Spilling During Travel
What is more disappointing and frustrating than opening up a makeup bag after a day of travel to find smashed powders and eyeshadows? Especially when you arrive in a foreign country or different city and have no idea where or how to replace them. Keywords to remember when packing makeup for travel: cushioning and padding. Cotton pads and cotton wool can be used as stuffing and padding to prevent breakages, especially when it comes to powder foundation, face powder, blushers, and eyeshadows.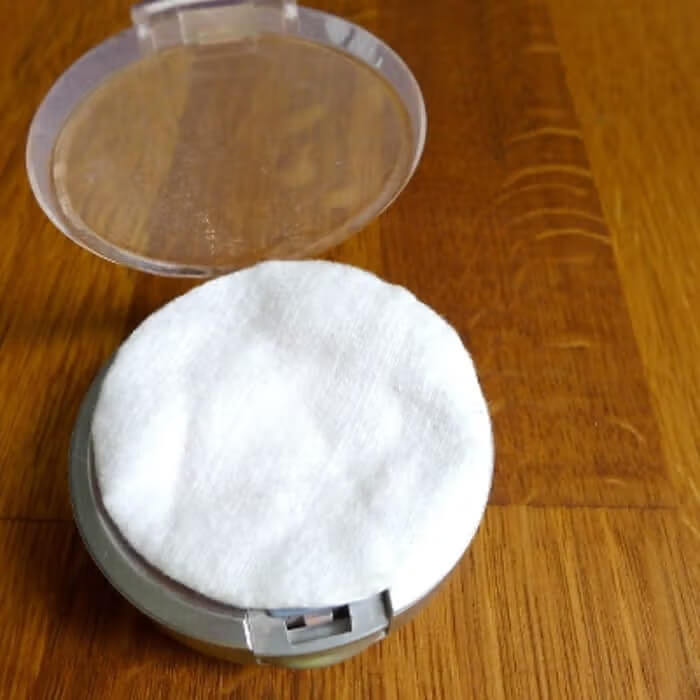 Another excellent packing hack for makeup - keep it with you in your hand luggage. There are travel rules about liquids when it comes to makeup but not dry powdered products. 
Stuff Your Sneakers With Small Things to Maximize Space in Your Luggage
Shoes are a paradox - they might be funky, sometimes beautiful, and fun to shop for, but when it comes to packing, trying to fit them into a suitcase is like trying to solve the Rubik's cube! They take up space and weight in an already cramped case, but shoes, especially sneakers, can be utilized to the maximum when packing - they are really helpful for storing small things like watches, socks, and underwear.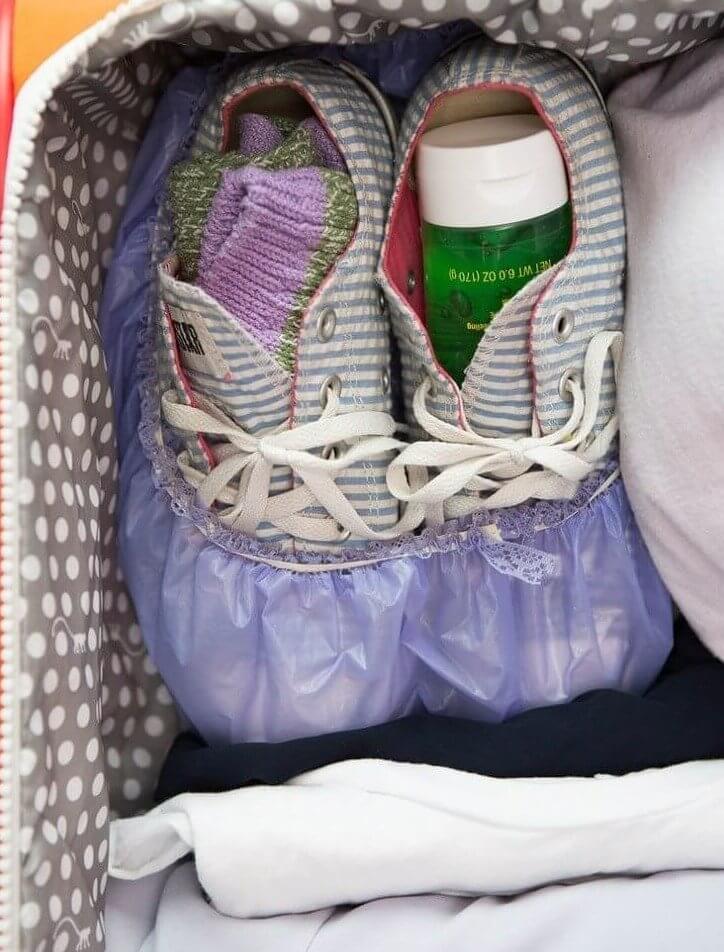 Roll up socks and underwear for inside shoes, place with soles to the sides of the case, and then place shoes inside a shower cap to avoid them dirtying up any fun vacation outfits. 
Glasses Cases Keep Your Cables and Wires Organized
No more rummaging about at the bottom of a bag for the phone charger! When planning a trip that will involve taking a bunch of different electronic items that require charging, find an old glasses or sunglasses case to pack cords, wires, and chargers into. No more tangles and no more lost chargers upon arrival. Traveling as a family? Take a few glasses cases of different colors to know whose is whose, or even better - label or marker each one with a name.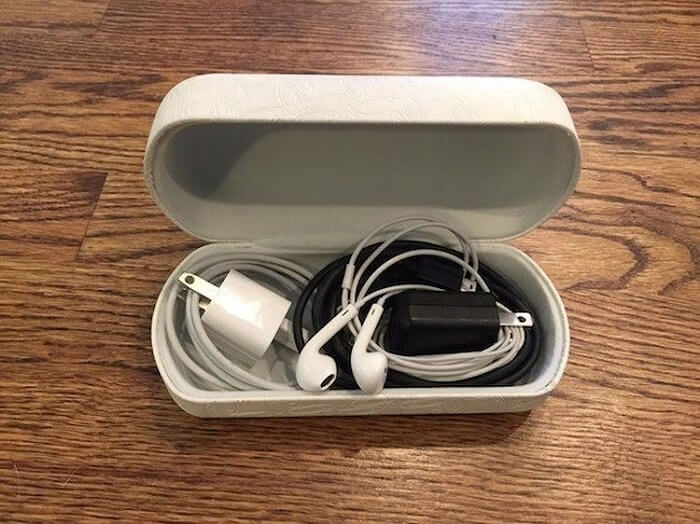 Keep cords, or headphone wires wound tight using some other packing hacks, such as a wine bottle cork to wrap headphone wires around! 
Labeling Bags by Day Makes Traveling With Kids a Breeze
One of the better hacks for traveling with kids is labeling bags by day! However organized we may think we are, traveling with babies or kids takes those skills to a whole new level. The golden rule: be prepared. Kids are messy and enjoy making themselves messier! Packing enough changes and clothes for kids can seem like a logistical nightmare, but go simple and pack two outfits per day, per kids, of coordinating clothes, i.e., clothes that match even if a shirt or bottoms need to be changed.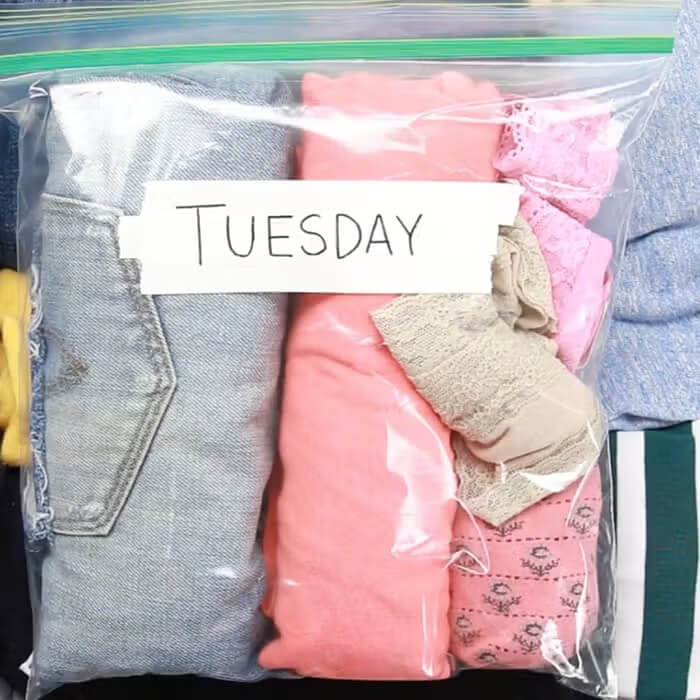 Label the cube or travel pack with the day on it - will it be a swim day or an outdoor adventure day? Is that day going to be a museum or visiting relatives? Imagine how stress-free it will feel to zip open that suitcase and find all the hard work done, with everyone vacation-ready within minutes. 
Compression Bags Maximize Space in Your Suitcase
We'll soon be discussing all the ways you can roll, stuff, and squeeze your stuff into a suitcase. But when all else fails, and the amount of stuff that is out on the bed just refuses to fit inside the luggage - well, it's time for the big guns: compression bags! Compression bags for traveling are similar to vacuum bags - they can save space inside a suitcase by compressing all soft clothing items together, removing all the air between them.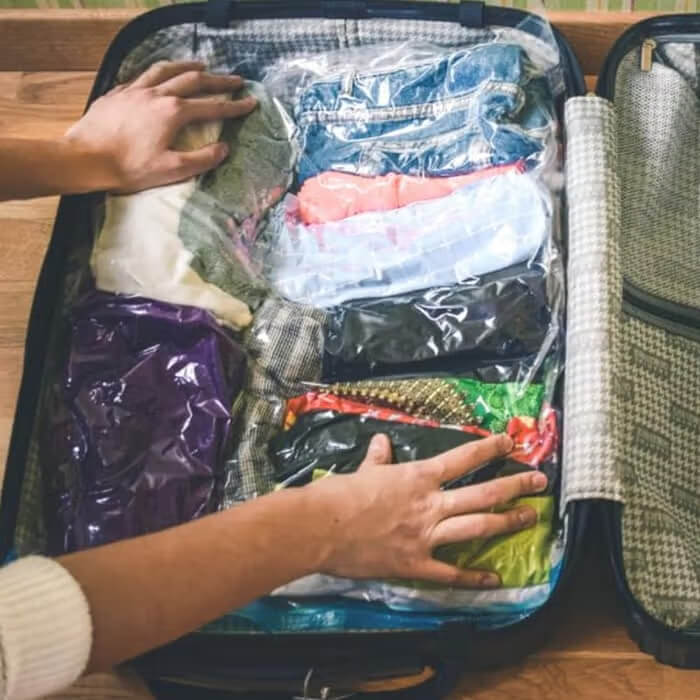 With compression bags, the air has to be pushed out manually so prepare for some huffing and puffing as your wardrobe is compressed into a travel-size pancake! 
Small Glass Bottles Keep Your Toiletries Eco-Friendly and Cost-Effective
Ever since the 'no liquids over 100ml' rule was introduced, people have been buying those teeny tiny travel-sized toiletries and products - probably because they are adorably cute, but more likely because they adhere to the rules. Sadly the amount of plastic waste generated by these smaller products is bad news for the environment. The solution is simple - just transfer a daily use product, like a favorite shampoo, conditioner, and shower gel, into a small glass bottle. Et voila!
Liquids, cream, gels, and paste all count as liquids, so utilize this packing hack to make sure to have your favorite products in your luggage upon reaching your vacation destination! 
Rolling Your Clothes Is the Future of Packing
Let the packing debate begin! An upcoming family trip requires plenty of changes of clothes, a partner's clothes, and outfits for kids - after it's all laid out on the bed, the most pressing question on our minds will be - how is this all going to fit!? This is the time to abandon the idea of folding your clothes and start rolling. In the great packing debate, rolling has been found to be way more efficient than the folding method.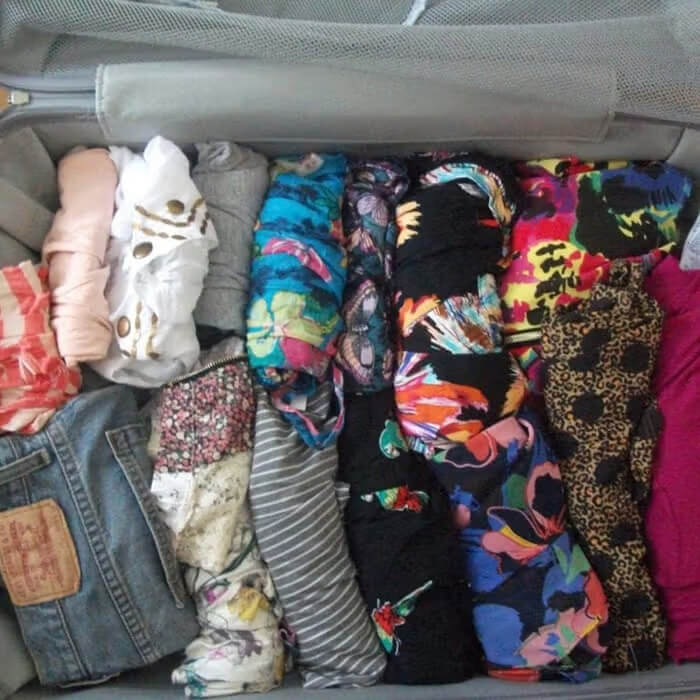 While it may be more time-consuming than folding, rolling means fewer creases and - crucially - a way more compact suitcase that can fit much more in! Just roll with it. 
Say Goodbye to Stress and Unpacking Chaos and Use Packing Cubes
Truthfully, some really smart parents have been packing with this method for a while now, be it in Ziploc or vacuum bags. But the travel industry has finally caught on! Cubes give us a more efficient way to pack and so much less stressful unpacking on the other side. Made of soft material with zipper closure, they mean no more rummaging around for loose cords, hairbrushes, pairs of socks, or underwear - just pack similar items into a cube.
Cubes are great for pairs of shoes and come in all sizes for rolled-up t-shirts and tops, and even larger items such as pants! While arranging them might be a bit of a puzzle - they can be stacked vertically or horizontally in a suitcase - they are the ultimate solution for backpackers, hikers, and camping trips!
Protect Your Breakables by Stuffing Them in Layers of Socks
Breakables are stressful! Who wants to be settling into their airplane seat, sipping a cool drink, and trying to relax but being unable to - all because the fragile items inside their luggage are stressing them out! Nobody wants their breakables smashing all over their suitcase - especially if it means a sticky mess on the other end, be it honey from Greece, jam from France, or wine from Italy. This packing hack is also just good common sense - fragile items get wrapped inside thick socks, layers of clothing.
Packing hack pro tip - before bundling fragile items up in clothes, wrap them in bubble wrap. An extra layer of protection never went amiss! 
Pack Your Hats Like a Pro so It Doesn't Get Squashed
Summer or winter vacation, hats are a must! But be it straw or boater, our gorgeous new hats can often arrive at our destination a squashed mess. Hats may seem like a nuisance to pack, but we have some clever hat packing hacks to share! Always pack a hat first, on the base of the suitcase, and pack around them. Then stuff it with things like scarves or socks and underwear.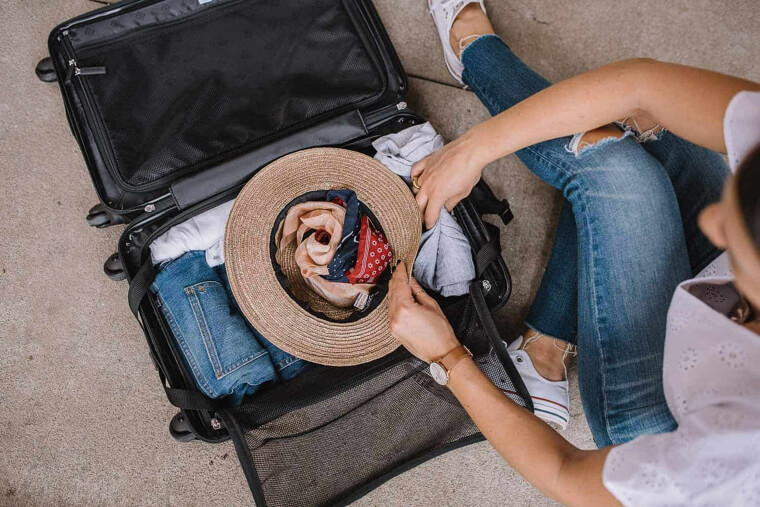 Be careful not to bend the brim of a smart, felt hat. If for any reason it does get bent, steam is the solution! Some hotels have steamers for ironing; alternatively - take a hot shower and leave your hat in the bathroom once you're done. All better. 
Prevent Smelly Suitcases With Dryers Sheets
Sometimes a journey can take longer than planned with unexpected delays; sometimes overnight, leaving your checked-in luggage sitting in a cold, dank terminal outside on the tarmac for hours. One of the easiest and smartest hacks recommended by flight attendants and frequent travelers alike is dryer sheets. They take up no space but will leave your suitcase smelling fresh and delightful. Dryer sheets can be placed between layers of clothing or balled-up inside shoes. 
Another essential use for dryer sheets is your laundry bag! When we can't do laundry for a week or more, dryer sheets will keep the bag and clothes from smelling bad and affecting the rest of your clean clothes. 
Leave Room for Souvenirs While Staying Within Your Luggage Limit
Boomerangs from Australia, wine from France, wooden clogs from Holland, a poncho from Bolivia, or maple syrup from Canada - whatever your souvenir of choice from a memorable trip, you will want to have enough room to bring them home! Classic mistake upon packing? Not leaving extra room for souvenirs. So when planning what clothes to bring, always remember to leave space or weight allowance for those things that might take your fancy while strolling through a market, souk, or Duty-Free. 
Sometimes, that still isn't enough room - consider packing a collapsible duffel bag in the suitcase in case of incredible souvenir finds that just cannot be left behind.
A Mini Laundry Bag Is the Must-Have Packing Essential
One of the things nobody wants to think about when packing for a family vacation or romantic weekend away? Dirty laundry. We focus on if enough outfits go with the one pair of shoes we're bringing and if the kids have enough beachwear. But what about the laundry coming back with us, and how to store it, so the rest of our suitcase doesn't end up smelly or damp? 
The solution: bring one or more easy-to-pack, lightweight laundry bags from home. Pro tip: put fresh-smelling dryer sheets inside them to keep away any nasty smell! 
The Ultimate Hack to Keep Your Luggage From Toppling Over
Daydream with us for a second: while at work and dreaming of going on vacation, picture the moment - stepping into the airport, ready to fly off to an exotic destination. But oh no, the luggage that was meant to be easy and convenient to wheel is not behaving. Pause the daydream; we have a tip - it might be due to your packing method! Our packing hack when it comes to wheelies: pack the heaviest items on the bottom. 
Especially on the way back, do not let lovely souvenirs get smashed or squashed because the weight in the suitcase was not balanced out properly. Heaviest items on the bottom, always! 
A Contact Lens Case Can Double as a Makeup Holder
This makeup packing hack is a true trick of the trade! Makeup itself can be bulky, considering that even a short list of foundation, powders, mascara, eyeshadows, lipstick, and concealer adds a lot to the hand luggage weight. Solution? It's in the solution! Well, the contact lens solution. Or, more specifically, the case that usually holds contact lens solution. They are designed to be air-tight and not spill, so they are the perfect makeup holders for a short trip!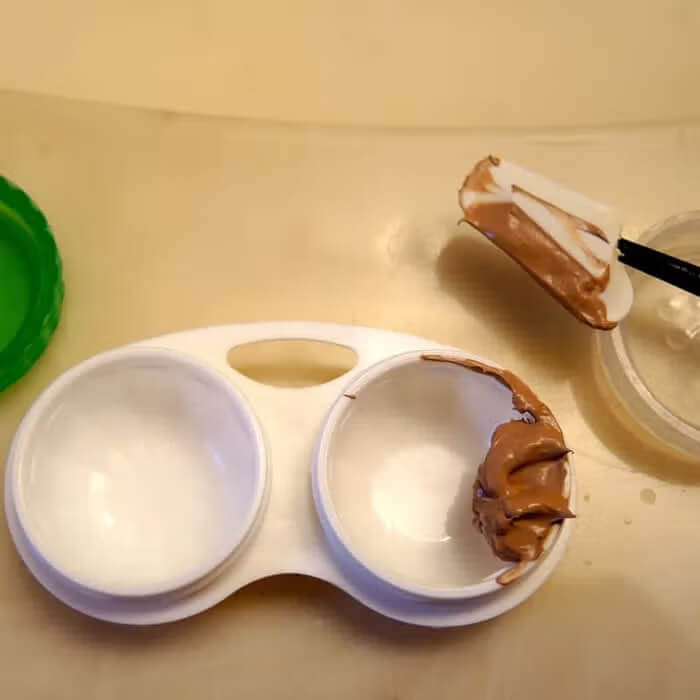 Just spread a little lipstick, foundation, or concealer with a toothpick into the base of the case. They are deep enough to hold a surprising amount of product! 
Protect Your Clothes From Spills While Traveling by Packing Them Inside Out
Packing for travel has become a fine art, but one of the lesser-known tricks for long-distance travel is the 'inside-outer.' That's right - before beginning to pack, turn each item of clothing inside out! Airport suitcase handlers are unfortunately not renowned for their gentle touch - in fact, if the suitcase contains liquids like shower gel, hair products, or alcohol, it is almost a guarantee that there will be spillage.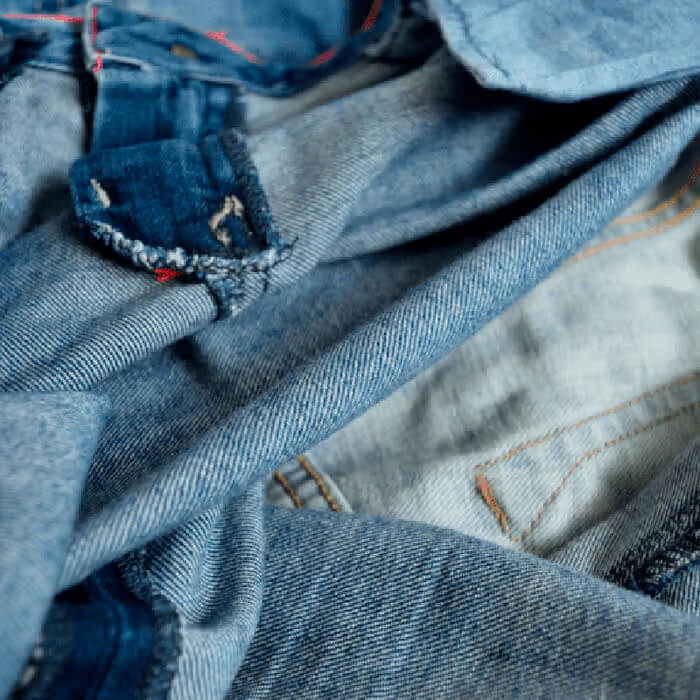 Turning clothes inside out means that if there is a break or leak, at least it would only be the insides of your clothes that are affected! 
Be Prepared for All Weather
If the next adventure planned involves hiking or cycling, and camping, one of the best investments is a backpack rain cover. Backpack covers are a relatively new but smart hack; old-school hikers will testify to using garbage bags for cover, but they were neither long-lasting nor environmentally friendly! Pack covers are crucial for protecting external equipment from rain - meaning anything that may hang off the backpack, like a foam mat and tent for sleeping, stoves, boots, and more.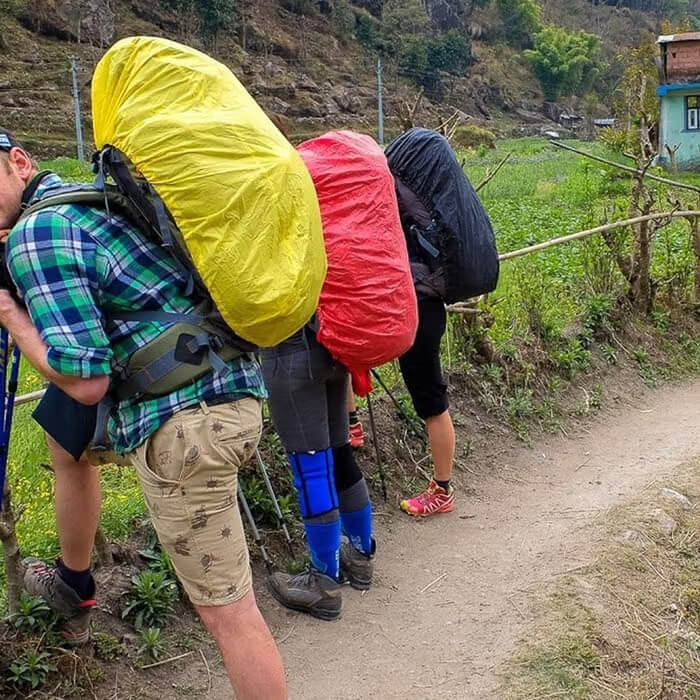 Pack covers will prevent your gear from getting wet if it rains but also cleverly prevent the pack from being torn if hiking through rough terrain. 
Everything in One Place
Liquids again! A hot topic in the world of travel these days. On our list for transferring into smaller reusable bottles or containers are shampoo, conditioner, body wash, body lotion, facial moisturizer, facial cleanser, foundation, sunscreen, hair serum, and toothpaste. When packing all of those many, many little liquid bottles into your hand or check-in luggage, a plastic storage bag is crucial. Not only does it keep all those tiny bottles together, but importantly, it will prevent leakage into your suitcase.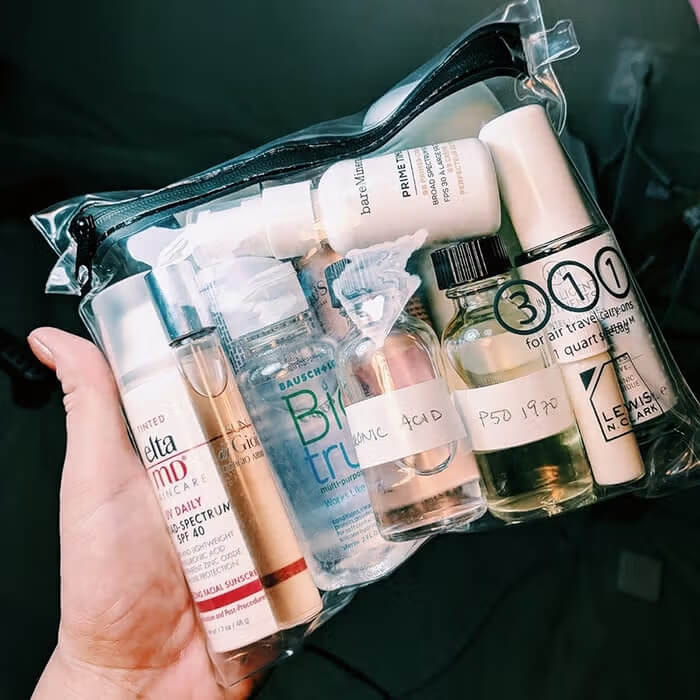 Think which items could be left behind - perhaps body lotion and hair serum aren't all that necessary while backpacking.
Taking Charge
While not specifically a packing hack, one of the most essential items to bring on any journey is a portable charger. Where would we be in life without our chargers?! That being said, while most people remember to pack their electronic items, they frequently forget the chargers. In order to keep in touch with loved ones, snap a lot of vacation photos or get some work done, fully charged electronic items will be necessary. 
Nobody wants the headache of running out of battery mid-vacation! Don't forget the universal travel adaptor to ensure those portable chargers have somewhere to plug into! 
Make Sure You Can Charge All of Your Electronics
What is a power strip, and why do we need to pack them? Hotels have outlets, surely. Well, they do, but when traveling with more than one device - tablet, phone, camera, hairdryer, curling irons, etc. - a multi-socket power strip can prove to be extremely useful. ​When traveling with a family and kids, put this at the top of the list under passports. Nobody needs the headache of a toddler, a tablet, and a 20% battery before a long flight home. 
The bonus of bringing a power strip: all the electronics will be in one place and less likely to be left behind!
Protect the Curling Iron and Make Sure Your Clothes Don't Burn
It's minutes before the cab arrives at the airport, and the curling iron is still warm from using it that morning - what to do?! Packing hack extraordinaire: stuff it in an oven mitt! Yes, those handy padded gloves are not limited to the kitchen. Not only will the mitt protect other items in your suitcase if the curling iron is still warm, but it also helpfully protects the hair tongs from any damage during transit.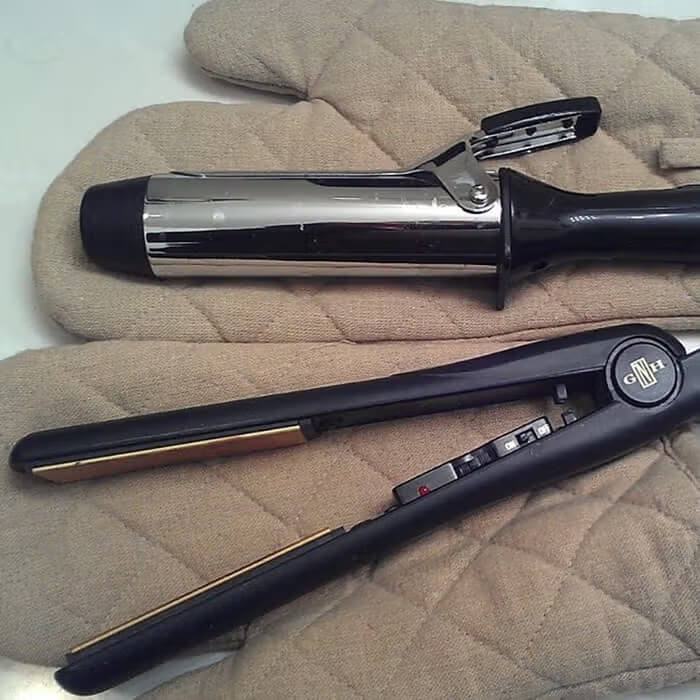 Word of warning: cordless curling irons are powered by butane - a flammable gas! - and should definitely be packed in a suitcase and not taken aboard an aircraft!
Why You Might Wanna Stock up on Sponges
Not the most obvious traveling accessory, but one of the best packing hacks out there: sponges! And no, not for cleaning the hotel bathroom. As ice packs, gel packs, and other frozen liquids are well and truly forbidden by most airport authorities, a smart way to bring along food for the journey, cold drinks, or snacks for the kids, is to pack them among frozen sponges. Lightweight and no hassle from security!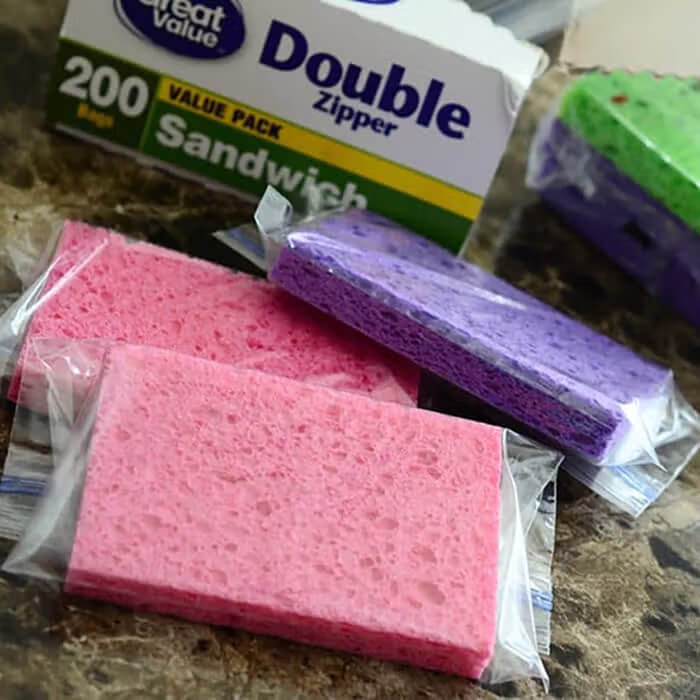 Picture the envy of fellow travelers when you pull out your plane picnic of cheese, bread, and wine for the journey! 
Take Your Pick From These Folding Methods
There are various packing hack methods that have been touted as the smartest or most efficient way to squeeze most of your wardrobe into a suitcase for one week's vacation - and this one, the bundle wrap, will likely save the most space. By placing each piece of clothing top to bottom over each other, eventually, it will create a little - or rather large - package of clothing.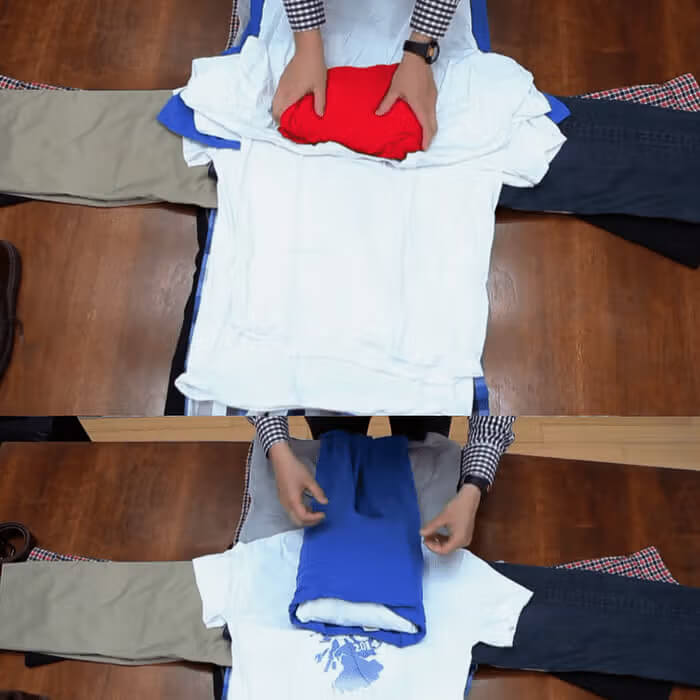 The only issue here is finding a particular piece of clothing when unpacking; the entire bundle needs to be unwrapped upon arrival. But if someone is looking to save space - maybe they are planning on doing a lot of shopping during their trip - then the bundle wrap method is the one to go for. 
Don't Get Caught Unprepared at Check-In
The world is finally opening up again for travel, and the plan is plenty of trips to go visit family and friends! One of the simplest but most essential investments to make before embarking on those journeys is a handheld weighing scale, also sometimes called a suitcase or baggage scale. By clipping it to the closed, beautifully packed suitcase, a person can check their weight at home prior to boarding.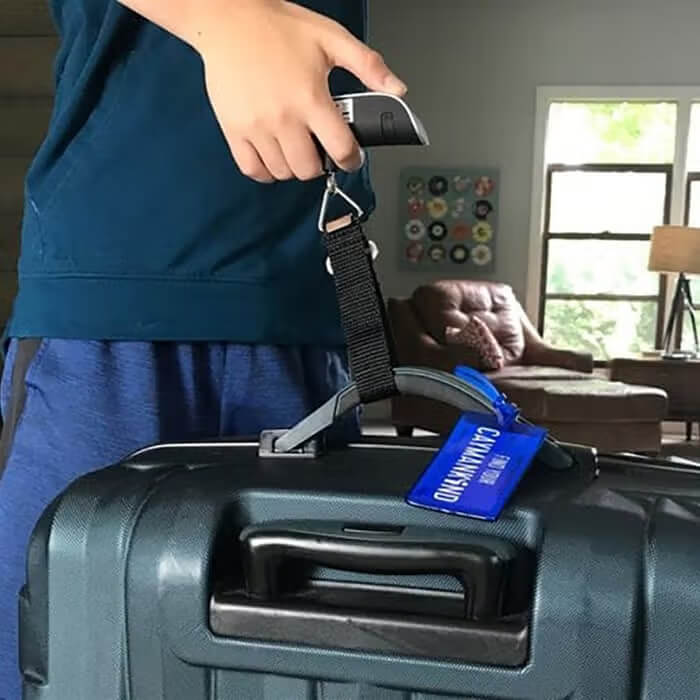 Keeping one of these gadgets at home means feeling totally reassured about the trip ahead - before stepping anywhere remotely near a check-in counter!
The Joey Tribbiani
It might be inspired by a TV character, but this look is actually an excellent traveling hack that doesn't involve any packing! Instead, it encourages the traveler to wear their heaviest items during their travel journey. Be it hiking boots or a winter coat; it pays to wear these items rather than pack them and weigh down a suitcase. This makes total sense if traveling with a budget airline who are sticklers when it comes to the weight allowance. 
In some cases, a suitcase is found to be overweight at check-in, and items need to be removed - that's when the Joey Tribbiani look comes in handy! 
Why You Should Leave a Paper Trail
First rule of travel - keep those documents handy! Passports, visas, tickets, insurance, vaccination records, or itineraries - whatever the documentation, make sure there are printed copies in each suitcase and with each adult traveling. In case any bags should go missing during the trip or in transit, it is crucial to have copies of everything in more than one bag! Especially in this era, we are currently living through, make sure health insurance forms are accessible. 
Never assume it will be 'enough' to have access to all documentation via a smartphone - what if the phone is stolen, goes missing, or breaks? Don't be caught out; travel smartly! 
Emergency Supplies
Always be prepared! The exception to the 'do not bring anything "just in case"' rule is a First Aid kit. A seasoned traveler and backpacker know exactly what gets put in first: ibuprofen or paracetamol, alcohol swabs, antiseptic spray, band-aids, and gauze. Any medicine a person takes regularly should be included, as well as the basics of a good First Aid kit, such as antihistamine, antibacterial gel or hand wipes, scissors, and safety pins for keeping bandages or gauze in place. 
If someone has a sensitive stomach or hasn't traveled abroad before, antacids might come in especially useful! Nobody was ever sorry to have emergency medicine or supplies with them.
The Great Book Debate
Picture it now; warm sun, cocktails, tropical music playing in the background, relaxing on a lounger near the sea, ready to spend a couple of hours with a good book. Reaching over to grab the book - is it an E-reading device or a paperback book? The obvious choice is a lightweight tablet. It won't take up room, has a long battery life plus easily rechargeable. They can also hold thousands of books. Not happy with your choice of beach novel? Just switch to another!
But do tablets have beautifully bound covers, illustrations, or the feel of bending back the spine of a brand new book? No, there are none of those things. We'll leave it up to the discretion of each traveler to decide. We know what we'd choose.
Fold Those Pants
Marie Kondo came blasting into our lives with her book, 'The Life-Changing Magic of Tidying Up: The Japanese Art of Decluttering and Organizing,' and ever since then, we cannot tidy or throw away a single thing in our homes without her coming to mind. Does this item bring us joy? Shouldn't all our books 'live' in the same space? So too with folding. She introduced us to methods for folding clothes that make so much sense that it doesn't make sense that we ever folded another way. When it comes to packing for traveling, the KonMari method is the only way to save space and prevent wrinkles.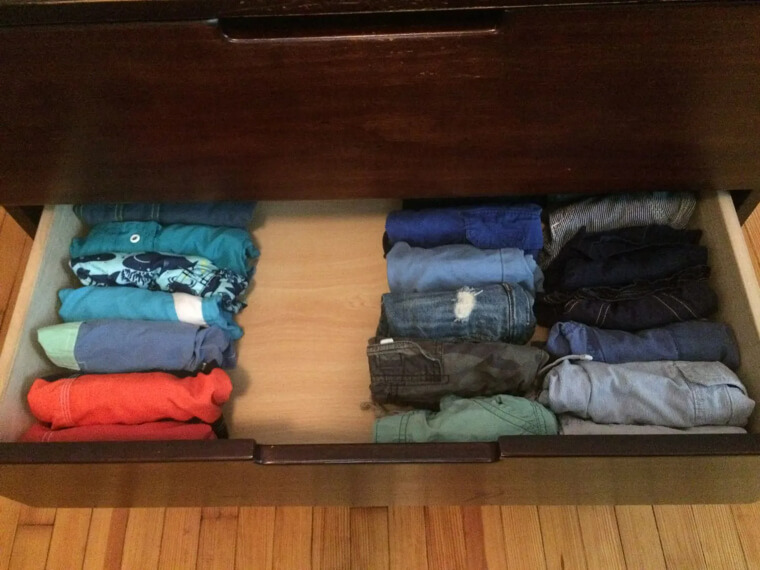 Just follow these directions for folding pants into a suitcase: fold the pants in half vertically and if the seat or butt part of the pants sticks out, then fold it against the pant legs. Then, fold the legs up toward the waistband, leaving a slight gap right before the waistband. Then fold up one more time towards the waistband, and your pants should look like the photo above.
Take Care of Those Fragiles
Once upon a time, luggage handlers dealt with fewer flights and less stress and took more care with passenger luggage. Unlucky for us, the times have changed, and a dented or broken suitcase can often be par for the course when traveling internationally. Placing a 'Fragile' label on a suitcase in the past may have made a difference, but we hear that baggage handlers today pay zero attention to special labels on suitcases.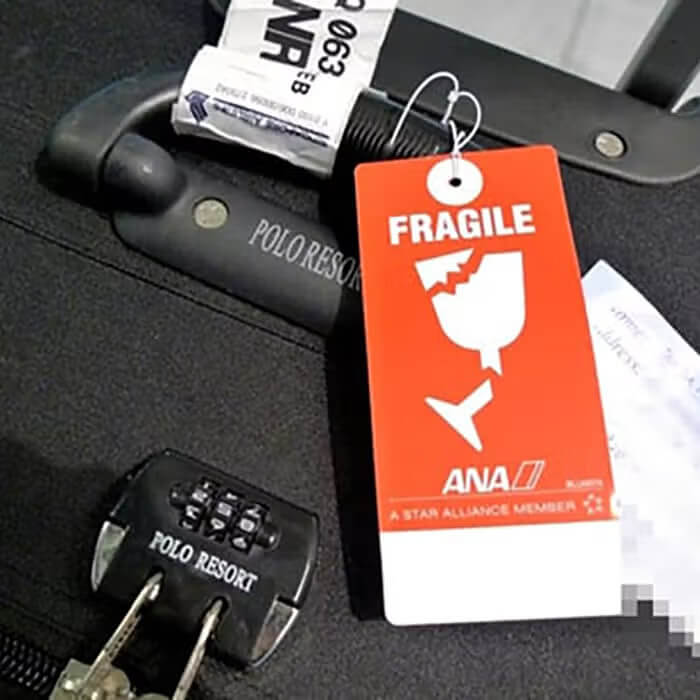 Instead of relying on a label, our pro tip would be to ensure that any breakables inside checked baggage are well cushioned in bubble wrap and padded all around by clothes. Have we learned nothing?!
The Vertical Shirt Fold
Here comes another fantastic folding tip from the home organizer, Marie Kondo. The vertical fold is a really helpful, efficient packing hack for squeezing a lot of clothes into an unforgiving suitcase. Follow the instructions below for folding tops in order to achieve the vertical fold or 'file fold.' Marie believes that clothes come out of this fold a little bit "happier," i.e., not wrinkled or crushed. And it's just as good a method for your drawers as it is for your luggage.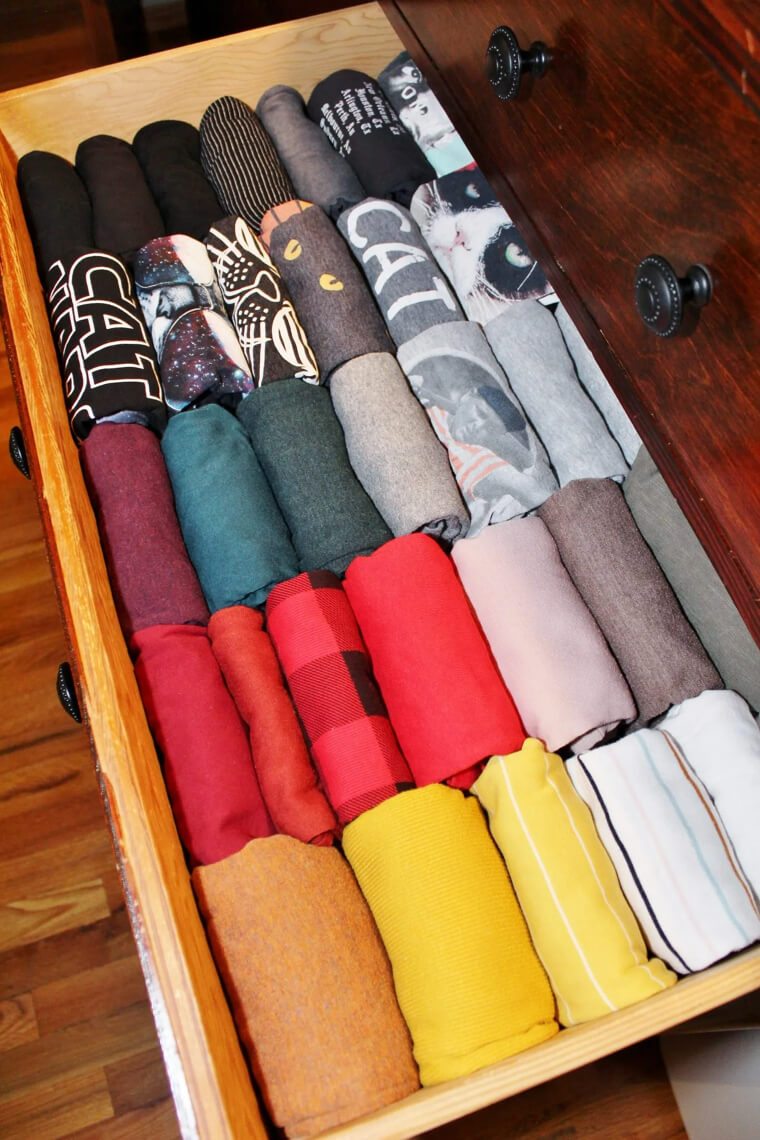 First, fold one side of the shirt vertically across the center and then fold back the sleeve. Then fold the opposite side the same way so that the two sides end up stacked on one another. Then fold the top of the shirt down, leaving a bit of a gap before the shirt's bottom. Then fold again over that, and you have a shirt that can be stored upright!
The Skivvy Roll
We have explored various packing methods; rolling, vertical folds or file folds, layering, bundling, or wearing all your clothes, but one that hasn't yet been explored? Commonly known among soldiers and military veterans - it's the 'skivvy' roll! This packing method may yet be the ultimate packing hack. It involves tightly rolling three items of clothing - a t-shirt or undershirt, underwear, and socks - into a tight, light bundle.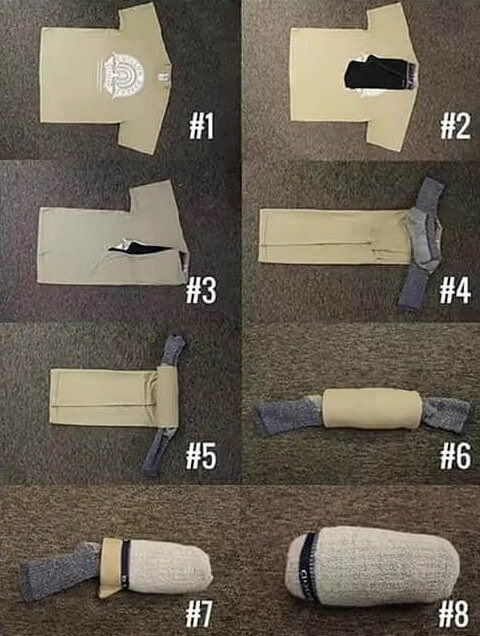 This method has been perfected by US marines and not only makes packing so much easier but also means UNpacking will be a breeze! 
The Travel Handbag Essentials
If there is one rule we want to imprint on the modern traveler's brain, it's this: keep valuable items in hand luggage! Laptop, money, credit cards, tablets - do not let them out of sight at any time during transit; they should always remain with the traveler. Whether it's investing in a money belt, a crossbody bag, or a backpack with a lock, always keep valuables close to the body.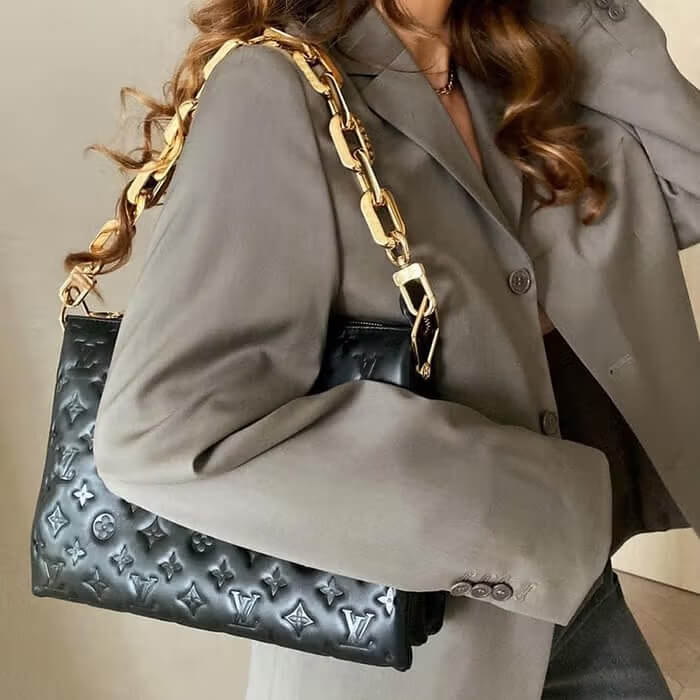 Pro-tip, relevant to whichever city of the world a person may find themselves touring in: wear your bag at the front of the body. Take it from us; it's worth looking a bit silly not to have valuables stolen! 
Pack Neutrals
When it comes to packing for a vacation or business trip, it's tempting to bring every possible combination of outfits hanging in the cupboard! Who wants to be left without options if another dinner or event is added to the itinerary? Experts recommend choosing a few pieces in coordinating or neutral colors in order to mix and match. If no laundry will be available, pack essential items for every day of the trip.
Lay it all out, everything that could possibly be worn on the trip, and then half the amount of things that are laid out. Two pairs of shoes, not four! Good luck. 
Organization Is Key
At the beginning of it all, there's a list. Before the beach and the cocktails, the skiing and hot chocolate, or the board meetings and room service dinners. Before any of that takes place, there is a list - and it is the ultimate packing list. Saving time, preventing essential items from being forgotten, and ensuring no headaches along the way - a little bit of organization can turn a disastrous trip into an amazing one.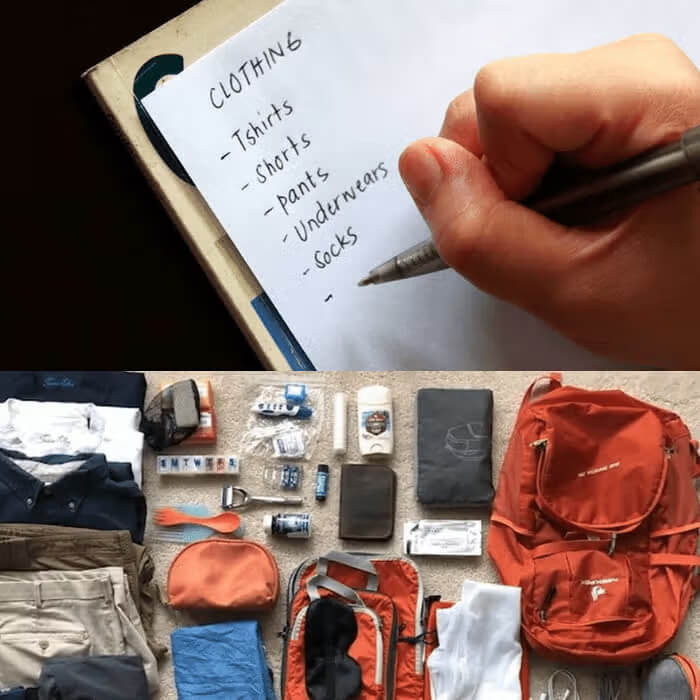 Where to start? Don't make it complicated. Start with essential daily items, then focus specifically on the events and the itinerary for the trip. Safe travels! 
Adaptation Is Key
If a trip to the emergency room is not on the list of ideal destinations for an upcoming vacation, then be sure to pack one or more universal travel adaptors for electronic items. When traveling to another country, checking the voltage and plug design at the final destination is good planning as well as good common sense. Who wants to arrive in a foreign country only to discover they aren't able to charge their phone? No thanks.
Safety first! Always, always check voltage and plug design before plugging in - electricity supplies around the world can differ hugely.